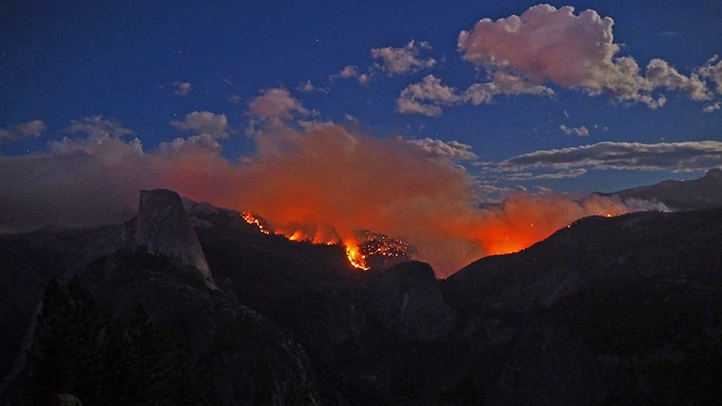 FRODO IN CALIFORNIA: Stewards of our state's wilder places know that catching some people's attention, when there's a fire or storm or headline-making event, can be a bit of a challenge. You can post yet again about trail warnings and advisements to steer clear of certain peaks and meadows, and it is up to the public to cautiously heed and take note. But Yosemite National Park's Facebook page found a memorable way to grab public attention about the very real concern of a fire in the park. It's the Meadow Fire, and while hundreds of firefighters are working towards containment -- Sept. 21 has been given as a possible date for full containment -- the national park's social media site went the literature route to bring news of the fire, and those all-important trail closures, to hikers' attentions. How? By summoning "Lord of the Rings" and author J.R.R. Tolkien, of course.
"FOULER THINGS THAN ORCS": A rather striking and startling photo of the blaze appeared on Yosemite's Facebook feed on Sunday, Sept. 14 with a warning and a hard-to-forget passage from "The Fellowship of the Ring": "If you decide to venture down trails that are closed, remember 'There are older and fouler things than Orcs in the deep places of the world.'" A link to trail closures due to the fire followed, as did a flurry of comments likening the Meadow Fire photo to something from a "Lord of the Rings" film.
LIT AS PUBLIC SERVICE: Could referencing stories many of us know, and employing quotes as gentle cautions to take heed during a blaze or other major park event, catch more eyes down the road? And, indeed, keep people safe and off closed trails? It's food for thought, for sure, but Yosemite National Park's deft employment of Orcs and Tolkien and myth made people stop and take note. Thinking outside the box, or park, clearly has its merits where public safety is concerned.
Copyright FREEL - NBC Local Media