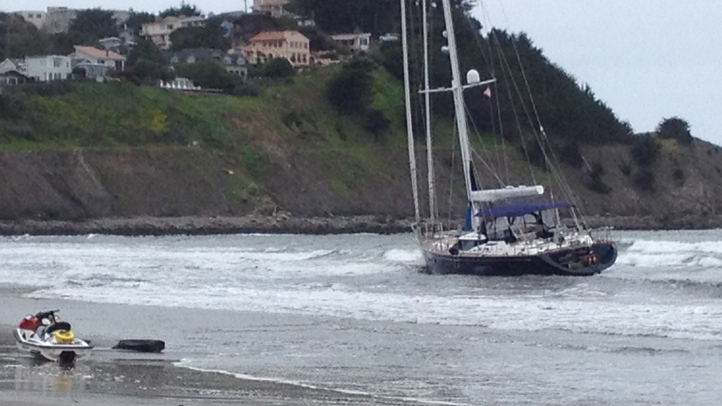 Two Pacifica police investigators testified in a South San Francisco courtroom Thursday morning in the preliminary hearing for a Wyoming man charged with stealing a yacht worth as much as $4 million from the Sausalito Yacht Harbor in March.

Leslie Gardner, 62, was arrested March 4 at Linda Mar Beach in Pacifica after it was discovered around 5:20 a.m. that day that the 82-foot sailboat "Darling" had run aground at the beach.
MORE: 3 arrested after stolen Sausalito boat runs aground
Later that morning, the owner of the Darling, Santa Rosa resident John Furth, called Sausalito police after seeing coverage about the beached vessel on the morning news. Police verified that Furth owned the boat, which had been custom-built in the United Kingdom and was insured for $4.2 million.

There was an estimated $900,000 in damage to the yacht, which police said Gardner had taken from its slip in the harbor, accompanied by a couple he had met the day before in Santa Cruz.

The couple, Aptos residents Dario Mora, 54, and Lisa Modawell, 56, were taken into custody along with Gardner after emergency crews removed the trio from the stranded boat. Mora and Modawell were arrested on suspicion of grand theft and conspiracy but the district attorney's office declined to
charge them.

Pacifica police Sgt. Chris Clements and Detective Scott Avilla both testified this morning that Gardner told them in interviews that he had inherited the boat from his father who had died in 2006.

They also testified that Mora and Modawell were under the impression that Gardner had inherited the boat.

Clements said Gardner had recently lived in a motor home in the Santa Cruz area and met the couple through a mutual friend. He told them he was going to San Francisco to look for two specific boats and planned to bring one down to Santa Cruz, and invited them to join him, Clements testified.

They arrived at the yacht harbor on March 3 and the couple thought they would set sail the next day, but were surprised when, at 1 a.m. on March 4, Gardner decided to start the boat and sail out of Richardson Bay and under the Golden Gate Bridge, Clements testified.

At the conclusion of Thursday's hearing, Judge Donald Ayoob ordered Gardner held for trial, and set a date of Aug. 7 for him to be arraigned in San Mateo Superior Court in Redwood City on three counts of grand theft, receiving stolen property and vandalism.

Gardner's court-appointed attorney John May said after the hearing that there is no evidence Gardner inherited the boat.

In March, Gardner underwent a mental evaluation to determine whether he was competent enough to participate in his own defense. Doctors found him to be competent and proceedings resumed, District Attorney Steve Wagstaffe said.

Gardner, who wore an orange jail jumpsuit and carried crutches in court this morning because he is missing his right leg, remains in custody in San Mateo County Jail on $1 million bail.

Copyright BAYCN - Bay City News