Expectant mothers in California can now find information on maternity care measures for select hospitals thanks to Yelp.
The company partnered with state and non-profit organizations, California Health Care Foundation (CHCF) and Cal Hospital Compare, to provide expectant mothers with self-reported statistics on maternity care in a consumer-friendly way.
"One in eight babies in the US is born in California where C-section rates for low-risk mothers vary from 10% to 70% depending on the hospital," said Vice President of Communications at Yelp, Shannon Eis. "The evidence suggests that a woman's chance of having a C-section depends largely on the hospital where she delivers and the practices of her clinical team."
The feature is part of a consumer protection initiative between Yelp and ProPublica, aiming to provide people with better medical information.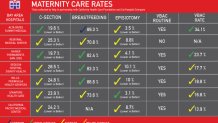 Consumers can find the new feature by searching for local hospitals that provide maternity care on Yelp and will focus on the following measures:
• "Low risk" C-section rate – The percentage of Caesarean section deliveries in "low-risk" pregnancies to mothers having their first baby
• Breastfeeding rate – The percentage of newborns fed only breast milk before discharge from this facility
• Episiotomy rate – How often episiotomies are performed at this facility
• VBAC Routinely Availability – Some hospitals do not routinely provide vaginal births after C-sections ("VBACs")
• VBAC Rate – How often vaginal births among women with a prior C-section occur at this facility if they routinely provide them
The new maternity care rate feature is only availble for roughly 250 hospitals in California but has a potential to expand.
"We hope that offering greater transparency into the performance of medical providers will hold doctors and hospitals accountable, and allow patients to select facilities that offer the highest quality care," said Eis.
Check out how these 10 Bay Area hospitals rank in Yelp's Maternity Care Data.