The inaptly named Cold Fire burned hot Wednesday, growing to at least 4,600 acres in Yolo County near Lake Berryessa in nearby Napa County, Cal Fire officials said.
By Wednesday night, spokesman Daniel Berlant said crews had contained 10 percent of the fire burning near Winters, Calif. — hence the name of the Cold Fire. The danger, the sheriff reported, was concentrated around high voltage PG&E poles along Highway 128.
"It doesn't take anything to start a fire right now and if you have a slight breeze on it, weather on it, it's going to take off," said Scott McLean of Cal Fire.
The blaze prompted mandatory evacuations of 35 homes involving about 100 people in nearby Canyon Creek Resort and Golden Bear Estates. One of those evacuess was Winters resident Jorge Cordova, who told NBC affiliate KCRA: "I'm kind of worried, I mean, it's fire and it can burn everything."
Cold Fire Burns 4,000 Acres in Yolo County
On Wednesday morning, Angel Gibson, who was staying at an evacuation was trying to stay calm, although she described the fire, which started Tuesday just before 5 p.m., as "huge" and "scary."
Marin and Napa county teams were among the multiple agencies battling the blaze Wednesday. Most of the firefight was taking place on the ground in terrain that was difficult to access, Cal Fire said.
"It's extremely difficult to get resources in there because the topography is so steep and dangerous," McLean said.
Helicopters are using water from Lake Berryessa to try to douse the flames, while more than 700 firefighters attack it from the ground. Meanwhile, the weather fueled the fire.
"We're supppsed to be getting 25 miles an hour winds today so that's going to be a concern," said firefighter Jeff Lindner.
Earlier Tuesday, a DC-10 tanker was aiding the fight from the air, dropping large amounts of fire retardant.
Cal Fire did not provide an estimated number of evacuees. An evacuation center was set up at the Winters Public Safety Center at 700 Main St. in Winters.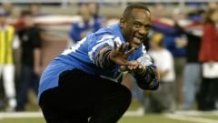 Nearby Markley Cove Resort has seen a big drop in business. Their normally busy boat launch has been extremely quiet. The fire, smoke, and highway closure is keeping lake lovers away.
But one group of vacationers decided not to let the Cold Fire interfere with their summer fun. In fact, they initially mistook the smoke for Carl the Fog, a San Francisco staple.
"It's pretty much like the San Francisco fog," Constance Jiang said. "I thought it was fog at first and didn't realize it was falling ash."
For more details on the latest evacuations and road closures, visit the Cal Fire website.