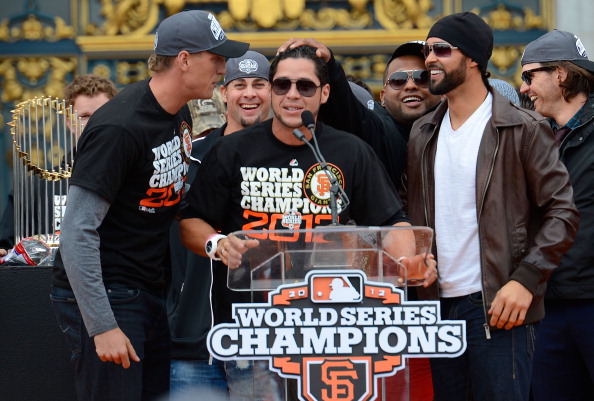 The San Francisco Giants' secret rally cry is a secret no longer, thanks to pitcher Ryan Vogelsong, who dropped the knowledge during the victory celebration on Wednesday.
"And I told the guys on this team I was gonna do this so I can't let them down," the pitcher said in front of one million Giants fans at Civic Center Plaza, according to SF Weekly.
"We have one little battle cry that nobody really knows about and I'm gonna break it out right now. And you guys'll have to figure it out on your own. But it's simple as this."
"You goin' to jail now!" Vogelsong said, before uppercutting the microphone.
Turns out that a video of a Cleveland bus driver delivering a punch to a recalcitrant passenger is the genesis of this esoteric message, according to reports.
The reference is to a viral video, first posted on Worldstarthiphop.com, a Web site notorious for posting cell phone videos of bum fights, jackings, beatings, and other tales of urban life in America. In this situation, 25-year old Shidea N. Lane argues with a bus driver. The bus driver, Artis Hughes, a 22-year veteran of the city's transit system, stops the bus to deliver to Hughes a message. "You goin' to jail now!" the driver says, before swinging a massive uppercut to Lane.
As of now, neither have gone to jail, according to the Cleveland Plain Dealer.
Copyright FREEL - NBC Local Media