Police officers shot a man dressed in an animal suit who threatened the Fox45 television station in Baltimore with what looked like a bomb Thursday afternoon, authorities said.
The supposed bomb, police revealed after the roughly four-hour incident was over, was found to be chocolate candy bars wrapped in aluminum foil with wires connecting each of them.
"There was also a small motherboard and that motherboard has been described as something that you might see in a fire extinguisher that was also attached to this contraption," Baltimore Police Department spokesperson T.J. Smith
The man, who police say is 25 years old, was shot at least three times by three police officers and lay wounded outside the station while a bomb squad robot attempted to pull his hand out of his pocket, according to the Baltimore Police Department.
The man was wearing a full-body hedgehog "onesie," similar to one that can be bought online. He also was wearing a surgical mask and a red device that appeared to be a life preserver, police said. The candy bars were strapped to the red device.
Police said at a news conference after the man was taken to a hospital, where he was in serious but stable condition, that the red device turned out to be concealed chocolate candy bars.
But station employees and police didn't know the bomb was fake when the strangely dressed man entered the building about 1 p.m. and threatened to blow up the building.
A security guard at Fox45 stalled the suspect for about 45 minutes as the rest of the building was evacuated, he said.
Stalling the Suspect
The security guard, Jourael Apostolides, said it was just a normal day until the man walked in and said he had a bomb and a message that he wanted to broadcast.
Apostolides said he was able to push a button underneath a desk that rings upstairs and dials 911 without the man noticing.
"I then proceeded to talk to the guy, try to keep him calm," Apostolides said. "Honestly, it seemed like he just wanted someone to talk to."
The man allegedly said he had a message that he needed to get out and handed Apostolides a flash drive containing information about black holes and the sun. The man said the government is hiding information from the American people.
Apostolides was able to leave the suspect in the lobby for a short time while he went to tell everyone to escape the building.
While that threat was ongoing, a vehicle burned in the parking lot. Police confirmed the vehicle fire was connected to the suspect, who has not been named.
All employees were accounted for.
TV Station Guard Talked to Suspect for 45 Minutes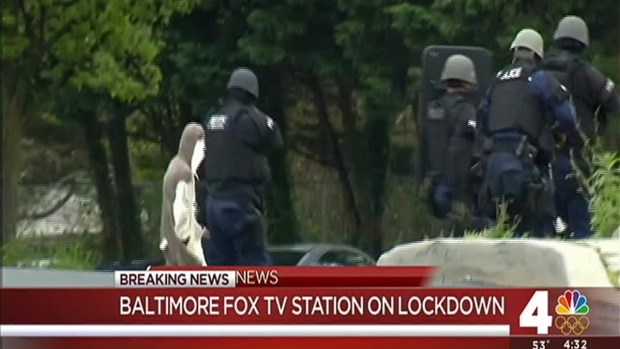 Two-Hours in the Station
"We've got a report of an intruder, someone who says he has a bomb, inside of our building," Fox45's Keith Daniels said in a video shot in the parking lot and posted to Twitter at 12:40 p.m. ET.
According to FoxBaltimore.com, "Evacuating staff spotted a man standing in the vestibule attached to the station lobby. He appeared to be wearing a bulky suit of some kind."
The man stayed inside the building for about two hours before apparently leaving on his own volition. Officers in protective gear followed as he walked through a parking area.
Smith said police sent in the robot because the man was uncooperative and officers didn't know if the suspect had a real bomb. As a precaution, the robot removed the man's clothes, Smith said.
"The suspect came out of the building, started to walk in advance across the street toward where officers were staged and officers were forced to fire upon him," Smith said.
The suspect is now at the hospital and is in serious but stable condition, Smith said. He is expected to survive.
Police believe the man is from Howard County, Maryland. He has not yet been charged.
Bomb equipment arrives at Fox45. pic.twitter.com/FKGVru1e3K

— FOX Baltimore (@FOXBaltimore) April 28, 2016
Baltimore Police SWAT team is staging at Fox45. pic.twitter.com/WeOtooz5OU

— Kai Jackson (@KaiJacksonFOX45) April 28, 2016
The street in front of the building is closed.
Stay with NBCWashington.com for more.