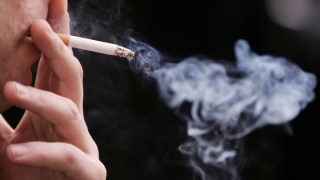 All units of public housing must become smoke-free within 18 months, the Obama administration announced Wednesday.
The sweeping rule change applies to 3,100 public housing agencies, requiring them to ban the use of any prohibitted tobacco products, like cigarettes, cigars and hookahs, from residences, indoor common areas, administrative buildings and outdoor areas within 25 feet of housing and offices.
"Every child deserves to grow up in a safe, healthy home free from harmful second-hand cigarette smoke," Secretary of Housing and Urban Development Julian Castro said in a statement. "HUD's smoke-free rule is a reflection of our commitment to using housing as a platform to create healthy communities."
HUD said it has encouraged public agencies to adapt a smoke-free policy since 2009. More than 228,000 housing units are already smoke-free, but the new ruling affects more than 940,000 units more.
The department said it would save about $153 million annually in repairs and preventable fires, with much of those savings come from health care related to secondhand smoke. Smoking kills 480,000 Americans each year, accoridng to the CDC, and officials stressed in the announcement of the policy that the effects that smoke can have on children
"Protecting our children and families from the devastation caused by secondhand smoke must be a priority for all sectors of our society, including public housing," said U.S. Surgeon General Vivek Murthy.
The Campaign for Tobacco-Free Kids applauded HUD's actions, saying "this bold step" would reduce smoking among groups that suffer the most from tobacco-related death and disease. The organization said HUD also should have gone further and applied the ban to electronic cigarettes, though local housing authorities are permitted to do so.