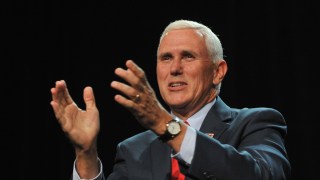 Republican vice presidential candidate Mike Pence laid out an immigration policy for running mate Donald Trump Sunday morning that would grant some undocumented immigrants the opportunity to legally stay in the United States — after returning to their native country, NBC News reported.
"There will be no path to legalization, no path to citizenship unless people leave the country," Pence said on CNN's "State of the Union."
Despite Pence insisting that Trump's immigration positions "have been absolutely consistent," the GOP presidential nominee suggested this week he would be open to "softening" his intentions to create a "deportation force" and remove the entire undocumented immigrant population from the United States.
Pence, repeatedly asked whether a Trump administration would still deploy a "deportation force," demurred, but said Trump was only describing "a mechanism, not a policy" with the use of that term.
Get More at NBC News