Former first lady Nancy Reagan, the stylish and strong-willed widow of the 40th President of the United States, Ronald Reagan, has died of congestive heart failure, her spokesperson confirms. She was 94.
Though her public appearances became rare after her husband's death in June 2005 — preceded by his decade-long struggle with Alzheimer's disease — she made frequent trips to the Reagan Library, both to visit Ronald's grave and to help expand the library's activities and influence.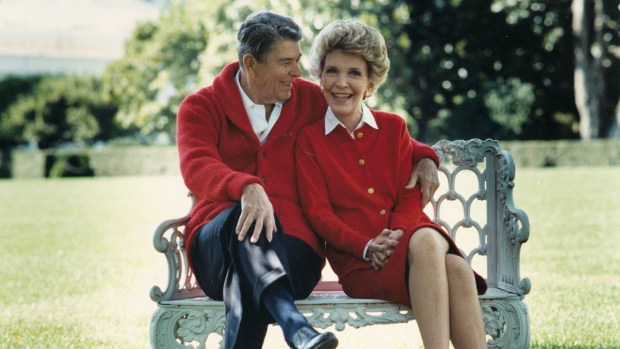 Nancy Reagan Through the Years
While Reagan is most well known for her roles as an actress and as first lady during her husband's eight years as president from 1981 to 1989, many also remember her work with the "Just Say No" anti-drug use campaign and as an advocate for stem cell research. Reagan would argue she considered her most important role to be Ronald Reagan's wife.
President Barack Obama and the first lady extended their "sincere condolences to the Reagans' children, Patti, Ron, and Michael, and to their grandchildren."
"We remain grateful for Nancy Reagan's life, thankful for her guidance, and prayerful that she and her beloved husband are together again," the president's statement read.
Former presidents George W. Bush and Bill Clinton expressed grief over her death. In a statement, Bush and his wife Laura praised her fierce loyalty to her "beloved husband" while Clinton and the former secretary of state, called Reagan an "extraordinary woman" whose "strength of character was legendary, particularly when tested by the attempted assassination of the president, and throughout his battle with Alzheimer's."
California Gov. Jerry Brown extended his deepest condolences to the Reagan family on behalf of his family and all Californians. Sen. Minority Leader Nancy Pelosi recalled Reagan's joy at the dedication ceremony for President Reagan's statue at the U.S. Capitol Rotunda.
"I hope that it is a comfort to the entire Reagan family that so many around the world appreciate her life, mourn their loss and are praying for them at this sad time," Pelosi said in a statement.
World leaders reacted to news of her death as well. Israeli Prime Minister Benjamin Netanyahu said he will always remember Nancy Reagan as a "great friend of the State of Israel," and the U.K.'s foreign secretary called her passing a "great loss for America."
On Sunday, Nancy Reagan's stepson, Michael Reagan, led tributes to the former first lady on social media, writing: 'I am saddened by the passing of my step mother Nancy Reagan...She is once again with the man she loved. God Bless...'
I am saddened by the passing of my step mother Nancy Reagan...She is once again with the man she loved.God Bless...
...

— Michael Reagan (@ReaganWorld) March 6, 2016
My first state dinner at The White House hosted by the elegant First Lady #NancyReagan. A night I'll never forget. pic.twitter.com/Sky6fxhKlB

— Vanessa Williams (@VWOfficial) March 6, 2016
In the Summer of 1981, Nancy Reagan awarded me my Presidential Scholar Medallion on the South Lawn of the White House. Forever grateful. RIP

— Wendell Pierce (@WendellPierce) March 6, 2016
In 2004, I sat down with Nancy Reagan to discuss her years in the White House and "Just Say No" https://t.co/8iqHdiwsqB

— Katie Couric (@katiecouric) March 6, 2016
Sorry to hear about the passing of Nancy Reagan... may she now join her one true love #RonaldReagan#loveaffair

— Lisa Vanderpump (@LisaVanderpump) March 6, 2016
I had the opportunity to work with Nancy Reagan as an Ambassador to "Just Say No" She was always a delight! 🙏 #CNNpic.twitter.com/yXvViKm9Ry

— La Toya Jackson (@latoyajackson) March 6, 2016
#NancyReagan was some kind of gal! Warm & wonderful. Always had her husband's best interest. We'll miss you. pic.twitter.com/uXJVJ9D19w

— Larry King (@kingsthings) March 6, 2016
Farewell to one of America's great women #NancyReagan. It was a pleasure to shake your hand and… https://t.co/jbS98ICd6N

— Melissa Joan Hart (@MelissaJoanHart) March 6, 2016
Mandi and I are praying for the Reagan family today--a loss for our nation.

— George P. Bush (@georgepbush) March 6, 2016
Nancy Reagan was also an elegant, graceful, mostly silent representative of American womanhood. She's not responsible for glasnost.

— Ann Coulter (@AnnCoulter) March 6, 2016
My friend Nancy Reagan died aged 94 The end of an era,#Love the 80s

— Joan Collins (@Joancollinsdbe) March 6, 2016
My statement on the passing of Nancy Reagan: pic.twitter.com/muBrWGVSz3

— Donald Rumsfeld (@RumsfeldOffice) March 6, 2016
A good friend & fearless trailblazer, Nancy Reagan will always have a special place in our hearts. https://t.co/xtcPi18kP0

— Mike Bloomberg (@MikeBloomberg) March 6, 2016
I am deeply saddened by the death of my Mother's good friend Nancy Reagan. She was a remarkable woman. #MelRivershttps://t.co/0fHNm6jUcU

— Melissa Rivers (@MelRivers) March 6, 2016
Presidential candidates and congressional leaders also took to twitter to mourn her death and praise Reagan's legacy and life.
Today our nation mourns the loss of Nancy Reagan, a true example of integrity and grace. My prayers are with the entire Reagan family.

— Marco Rubio (@marcorubio) March 6, 2016
Ohio Gov. John Kasich's statement on the passing of Nancy Reagan: pic.twitter.com/1EWpzAY01B

— John Kasich (@JohnKasich) March 6, 2016
Nancy Reagan, the wife of a truly great President, was an amazing woman. She will be missed!

— Donald J. Trump (@realDonaldTrump) March 6, 2016
Nancy Reagan will be remembered for her deep passion for this nation and love for her husband, Ronald. The Reagan family is in our prayers.

— Ted Cruz (@tedcruz) March 6, 2016
With the passing of Nancy Reagan, God and Ronnie have finally welcomed a choice soul home. https://t.co/NjiOBT9xoQ

— Mitt Romney (@MittRomney) March 6, 2016
Nancy Reagan was an exemplary First Lady and woman. She will be missed. My thoughts and prayers are with her loved ones. RIP Mrs. Reagan

— Dr. Rand Paul (@RandPaul) March 6, 2016
RIP Nancy Reagan. An extraordinary person who showed grace and strength.

— Brian Schatz (@brianschatz) March 6, 2016
RIP: Nancy Reagan

— JohnCornyn (@JohnCornyn) March 6, 2016
Rest in Peace #NancyReagan. You will be missed.

— Michael McCaul (@RepMcCaul) March 6, 2016
Nancy Reagan was a beloved First Lady who served our country with dignity and grace. She will be missed.

— Gov. Gary Herbert (@GovHerbert) March 6, 2016
My thoughts and prayers are with the Reagan family as they mourn the loss of former First Lady Nancy Reagan.

— Pete Sessions (@PeteSessions) March 6, 2016
Our hearts and prayers go out to all the Reagan family for the life and the loss of #NancyReagan. RIP

— Steve King (@SteveKingIA) March 6, 2016
Rest in peace, Nancy Reagan. She touched the heart of a nation and made the world a better place. pic.twitter.com/BEscm47daQ

— Kevin McCarthy (@GOPLeader) March 6, 2016
My heart is with the Reagan family this morning. God Bless.

— Tim Scott (@SenatorTimScott) March 6, 2016