Rep. Steve Scalise, critically wounded in the hip Wednesday morning while at a congressional baseball practice in Virginia, became the first representative to be shot since former Rep. Gabrielle Giffords was struck in the head while meeting with constituents six years ago.
But if Giffords and her husband, retired astronaut Mark Kelly, have devoted the years since her shooting to tightening gun control laws, Scalise is unlikely to follow the same path, based on his record. He is a longtime pro-gun politician who describes himself as a strong supporter of the Second Amendment and he has an A+ rating from the National Rifle Association.
Hate Rhetoric Led to 'Congressmen Dodging Bullets': Rep.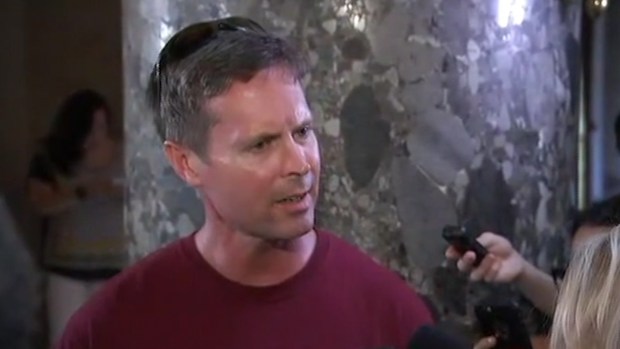 The country's bitter divide between proponents and opponents of stronger gun control measures surfaced immediately after the shooting as lawmakers and others decried the nasty political climate — epitomized by comedian Kathy Griffin posing in a photo with what looked like Donald Trump's severed head — and the increased threats they faced. Scalise, as part of the House leadership, was accompanied to the practice by an armed detail from the Capitol police.
"Had they not been there, it would have been a massacre," Sen. Rand Paul, the Republican from Kentucky, told MSNBC.
You never expect a baseball field in America to feel like being back in a combat zone in Iraq, but this morning it did.

— Brad Wenstrup (@RepBradWenstrup) June 14, 2017
The attack saw lawmakers and others scrambling from bullets at a northern Virginia park. Republican Rep. Brad Wenstrup of Ohio, a pediatric surgeon who served in the Army in Iraq and who treated Scalise on the field, tweeted, "You never expect a baseball field in America to feel like being back in a combat zone in Iraq, but this morning it did."
Senate Leaders Come Together After GOP Baseball Shooting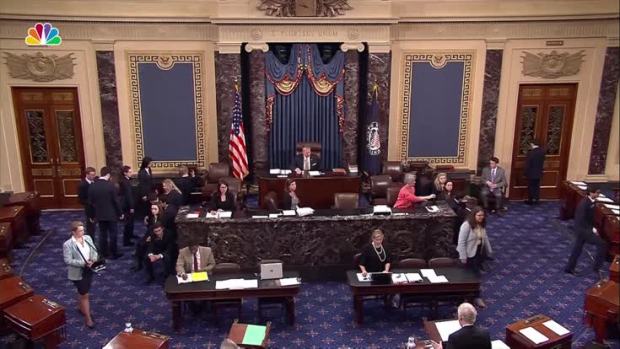 Afterward, Congress came together in a bipartisan show of solidarity.
"An attack on one of us is an attack on all of us," Republican House Speaker Paul Ryan said afterward to applause from his colleagues, Republicans and Democrats.
'An Attack on All of Us': Ryan Reacts to Va. Shooting
Republican Rep. Richard Hudson of North Carolina appealed to Americans to think about what had happened to political discourse in the country.
"The expressed hatred, the vitriol – often expressed behind the safety of a keyboard – and the inability to listen to and respect someone with a different point of view has become the new normal," he said. "It has to stop. We have to remember we are Americans first."
But on social media and elsewhere, people immediately began staking out partisan positions on gun control. As in the past, some conservatives criticized any mention of gun legislation too close to the shooting, with the Daily Caller publishing an article titled "Steve Scalise Was Still Bleeding, And Liberals Were Calling For Gun Control."
Rep. Mo Brooks, an Alabama Republican who used his belt as a tourniquet on Scalise, was asked by a reporter at a local ABC station whether the shooting had changed his mind on the guns in the United States.
Congressman Describes Va. Attack: 'The Gunfire Was Non-Stop'
"Not with respect to the Second Amendment," he responded. "The Second Amendment right to bear arms is to ensure that we always have a republic. And as with any constitutional provision in the Bill of Rights, there are adverse aspects to each of those rights that we enjoy as people. And what we just saw here is one of the bad side effects of someone not exercising those rights properly."
A congressman from western New York, Republican Rep. Chris Collins, told Buffalo television station WKVW-TF that he would carry a firearm when he was out. Collins has a concealed carry permit.
"On a rare occasion, I would have my gun in a glove box or something," Collins told the television station. "But it's going to be in my pocket from this day forward."
Virginia allows guns to be openly carried, but D.C. has stricter gun laws. Rep. Barry Loudermilk, a Republican from Georgia, who had attended the baseball practice on Wednesday, said that there should be "some kind of reciprocity" to carry guns between both places.
"I had a staff member who was in his car maybe 20 yards behind the shooter, who was pinned in his car, who back in Georgia carries a 9-millimeter in his car," he said, The Washington Post reported. "He had a clear shot at him. But here, we're not allowed to carry any weapons here."

On the other side of the debate, Virginia Gov. Terry McAuliffe in response to a question at a news conference called for background checks and shutting down loopholes for sales at gun shows.
"That's not for today's discussion," the Democrat said, but added, "it's not just about politicians. We worry about this every day for all of our citizens."
McAuliffe noted that a Virginia state police special agent, a father of three, had been shot to death, on Friday night during a vehicle stop in Richmond,
"I talk about this every single day," McAuliffe said. "This is a very serious issue."
Even as the country focused on the wounded lawmakers, a shooting at a UPS facility in San Francisco left four dead, including the assailant.
After news emerged that Scalise had been shot, Giffords issued this statement: "My heart is with my former colleagues, their families & staff, and the US Capitol Police- public servants and heroes today and every day."
May we all come together with prayers for the survivors, love for their friends and family, and the courage to make this country its best. pic.twitter.com/2CIOnOh2su

— Gabrielle Giffords (@GabbyGiffords) June 14, 2017
The former congresswoman from Arizona, who was a Republican but now describes herself as a moderate Democrat, underwent a long and intensive rehabilitation after a bullet went through her brain. Six of the victims shot with her died and her assailant, Jared Loughner, was sentenced to life in prison.
On MSNBC, Giffords' husband, with whom she founded the non-profit Americans for Responsible Solutions, said his thoughts immediately went to moment he learned his wife had been shot.
"Things like this are an assault on our democracy," he said. "Unfortunately, it's a dangerous country we live in but there are things we can do to try and make it a safer place."
He and Giffords have worked for expanding the federal background check system, enacting strong laws against gun trafficking, stiffening penalties for straw purchases and investing in funding for research about the causes and impact of gun violence.
'It Was Scary': Rep. Joe Barton on Baseball Shooting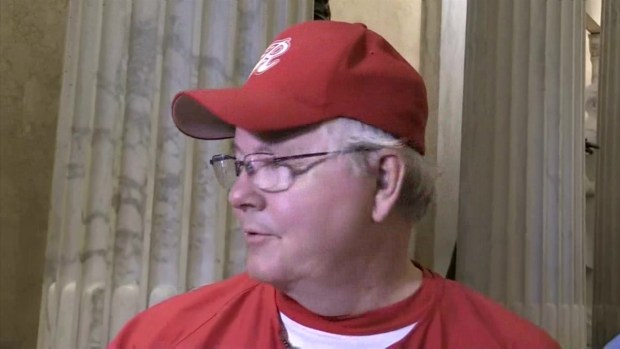 Giffords' former district director, Ron Barber, who was wounded when she was shot and went on to finish her term when she resigned, told CNN that "the level of vitriol and harsh rhetoric has escalated to a point that I've seen in my life."
"We need to say, 'Tamp down the rhetoric,'" Barber said after Scalise was shot. "Let's get away from this toxicity that is creating an environment in which someone thinks they can go and take political action by shooting."
Rep. Mark Sander, the Republican from South Carolina, said Thursday on MSNBC's "Morning Joe" that he was worried the country would not learn from Wednesday's shooting and he partly blamed Trump for the country's angry politics.
"I would argue the president has unleashed -- is partially, again not in anyway totally, but partially to blame for demons that have been unleashed," Sanford said

Scalise, a conservative Republican from Louisiana, was wounded when James T. Hodgkinson opened fire on the lawmakers practicing for a charity baseball game. Hodgkinson, a 66-year-old from Belleville, Illinois, was killed in a shootout with law enforcement officers. The home inspector had belonged to a Facebok group called "Terminate the Republican Party" and had reportedly railed against President Donald Trump online. He had volunteered for Bernie Sanders' presidential campaign and "wasn't happy with the way things were going, the election results and stuff," his brother Michael Hodgkinson told The New York Times.
Sanders Says Virginia Shooter Volunteered on His Campaign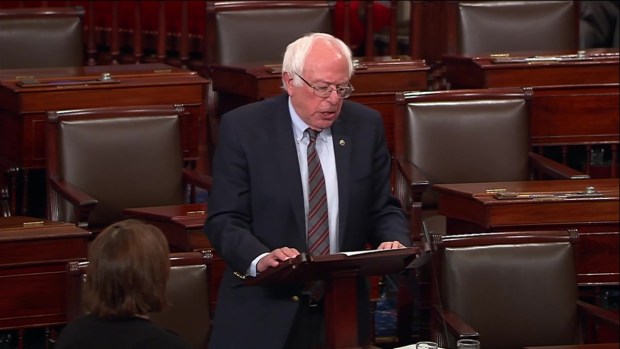 FBI Special Agent In Charge Tim Slater said authorities were still working to determine the motive.

The bullet that struck Scalise's left hip fractured bones, injured internal organs and caused severe bleeding, MedStar Washington Hospital Center said Wednesday night. He remained in critical condition and will need further surgery, it said.
Trump Comments on Shooting at Congressional Baseball Practice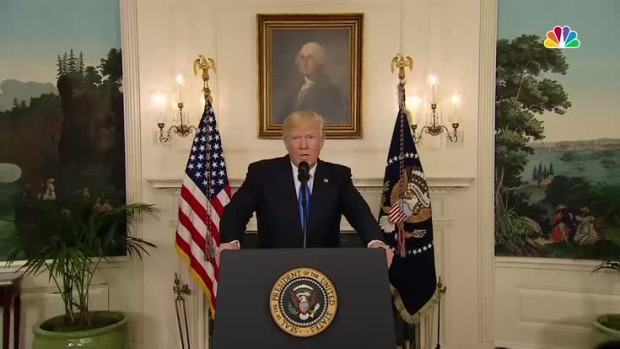 "Just left hospital. Rep. Steve Scalise, one of the truly great people, is in very tough shape - but he is a real fighter," Trump tweeted Wednesday evening. "Pray for Steve!"

Scalise has sponsored or cosponsored bills that would require states to recognize each other's gun permits, allow for the interstate sale of firearms and lift restrictions on firearm possession in the District of Columbia.
"A member of the Congressional Second Amendment Task Force, Congressman Steve Scalise will continue fighting to protect every citizen's Second Amendment right to keep and bear arms," his website says.