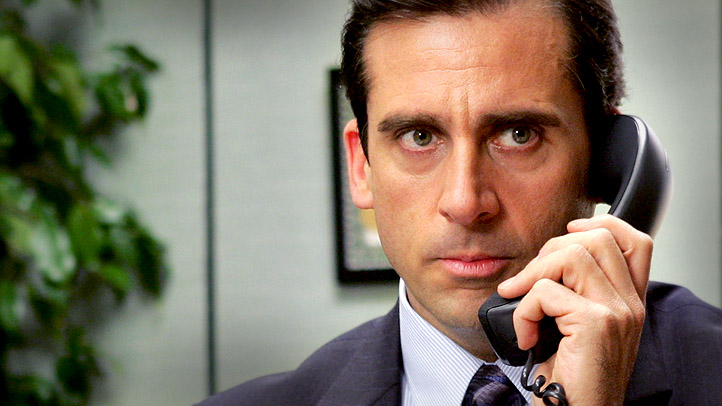 For the amateur "Office" accountants out there, it's been two weeks since the last installment of the great workplace comedy and we'll have to wait one more long week until the first of the final three shows with Steve Carell – not to mention the beginning of Will Ferrell's much-ballyhooed four-episode stint.

If those are too many numbers for even portly Dunder Mifflin Sabre bean counter Kevin to digest, you might not want to bother tallying the growing constellation of stars set to appear in the May 19 post-Carell season finale. Ray Romano, James Spader and Catherine Tate reportedly are the latest guests slated to join Ricky Gervais and Will Arnett.
Our math is generally fuzzy and some variables remain unknown, but this all seems to be adding up to one of the oddest – and potentially greatest – sendoffs in TV history.
The run-up to Carell's departure after seven seasons playing bumbling office manager Michael Scott, it's safe to say, is unlike anything in TV history. Other classic ensemble sitcoms like "Cheers" and "MASH" thrived after losing major characters – but the actors always left at the end of the season, not in the middle of the replacement arc. Whatever the intention, having Carell's Michael Scott checkout before the season finale only seems to have intensified the hoopla – especially with the infusion of big-name talent seen, to varying degrees, as auditioning as replacements.
U.S. & World
It seems unlikely Ferrell, Gervais or Romano would join the show – as great as each would be – given their other pursuits. Arnett would be a strong choice, but he's reportedly already committed to a pilot being produced by NBC and Lorne Michaels. Spader, who played one of the weirdest bosses in movie history in "Secretary," showed a talent for the wry in "Boston Legal" that would serve him well at "The Office." Tate, a comedy star in her native UK, is basically an unknown quantity here and would bring a fresh take.
But all the office overcrowding only emphasizes the void Carell is leaving after nearly 150 episodes of playing an unlikeable character – at least on paper – whom the audience grew to love even as he regularly teetered towards self-destruction, a man-child propelled by impulse and emotion.
Sometimes, Michael Scott gets it right – as in the most recent episode, when he proposed to his beloved Holly, aided by his office family, amid tableau of candles and a downpour from the water sprinkler. The scene, sweet, silly – and soggy – proved one of the finest and most satisfying in the show's history.
We're looking forward to more memorable moments, especially from Ferrell and Gervais, co-creator of the original UK version of the show, who returns as grating paper company manager David Brent. That the duo, Romano and other notables are visiting Dunder Mifflin Sabre, for whatever period of time, is a tribute to Carell.
However the rest of the season plays out, the only thing we can count on is that Carell and his Michael Scott will remain a part of "The Office" long after they're gone.

Hester is founding director of the award-winning, multi-media NYCity News Service at the City University of New York Graduate School of Journalism. He is the former City Editor of the New York Daily News, where he started as a reporter in 1992. Follow him on Twitter.
Copyright FREEL - NBC Local Media