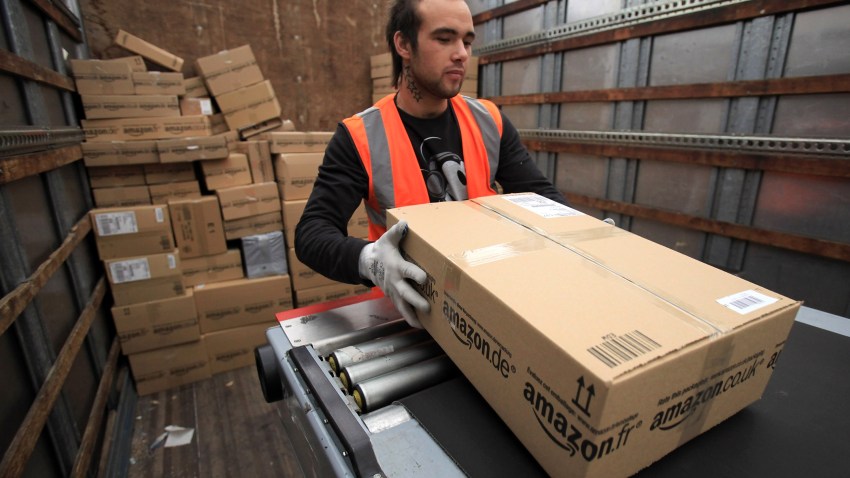 Talk about a good news story going bad fast.

It's well known that Amazon finally caved into the state on the battle over collecting sales taxes.

A coalition of small retailers, big box store owners, and revenue hunters placed enough pressure on the state legislature last year to force Amazon to participate in the sales tax collection process.
Under the terms of an agreement between Governor Jerry Brown and the huge e-tailer, collection of the tax will begin on September 1, 2012, bringing in more than $300 million annually to state coffers.

With huge growth in the state, Amazon is set to build at least two massive warehouses in California. The two tentative warehouse locations will be in Patterson and San Bernardino.

That's the good news. Now the bad news.

Under California's sales tax law, 6.25 percent of the tax goes to the state, .75 percent is shipped to local governments, and .25 percent is directed toward local transportation. The voters in some localities have approved higher amounts for particular uses in some cases.

But the issue here is the .75 percent left for local governments, which have been starving for revenues thanks to the state's recession, massive state funding cut backs, and the elimination of redevelopment agencies.

So what's this have to do with Amazon? Everything.

The Los Angeles Times reported last month that the cities of Patterson and San Bernardino were in "very early stages" of negotiating with Amazon to turn over most or all of their .75 percent portion of the sales taxes in exchange for Amazon locating its warehouses in their cities. That might be okay if the cities were flush, but their conditions are as bad or worse than most others in the state.

According to the Patterson Irrigator, that city's local newspaper, the Patterson High School budget has been nearly halved over the past three years because of revenue losses.
Matters are no better in San Bernardino, where Inland.Politics.com reported last week that the school district issued 224 layoff notices to teachers, upping the student-to-teacher ratio next year to 33-to-1 from the present 30-to1.

Even as these cities prepare to implement draconian cutbacks, they plan to give Amazon their badly needed tax revenues.
Shakespeare was right: A pox on both your houses!
Larry Gerston teaches political science at San Jose State University and is the political analyst for NBC Bay Area.
Send us your thoughts via Twitter @PropZero or add your comment to our Facebook page.