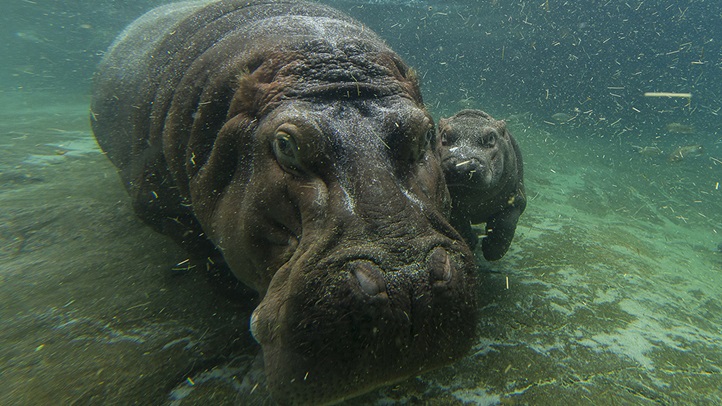 SWEET SWIMMER: Hippos have often appeared upon the big screen, both in fascinating documentaries and live-action feature films, but our minds very often alight upon the animated works that summon a zanier, quirkier side to the noble creatures. For rather than doing the usual things hippopotamuses typically do, as in eat, snooze, and such, these movies show the animals having adventures, making friends, and, yes, sometimes performing ballet. If you just called out "Fantasia" at that reference you're right on the money: The ballerina hippos twirling through the Walt Disney classic are some of the most famous dancers ever to grace the silver screen.
AND YET... they're not so fantastic or outlandish when you consider how beautifully, and fluidly, a hippo swims. This was brought home to cooing San Diego Zoo followers around the planet in recent weeks, as they watched enchanting video of Funani, a mother hippo, swimming with her baby at her side. Were their movements positively ballet-like? Positively, and so heart-tugging as well. But a mystery remained: What sex was the baby? This was as of yet unknown, "(d)ue to the very protective nature of a hippo mom." The infant "was often kept tucked under vegetation growing along the edge of the hippo pool," reports the zoo, making it challenging to discern whether the beauty was a girl or a boy. But the word went out just a few days after Mother's Day, that keepers had made the discovery, and Baby is...
A GIRL: And her name is Devi. If you want to see the delightful Devi with your own aww- and awe-filled eyes, she's with Mom in the hippo pool each Tuesday and Thursday, plus all weekend, too. The pool, in case you're wondering, holds an impressive 150,000 gallons. As for Devi, who made her happy hippo debut on March 23? She's now weighing somewhere between 90 and 105 pounds, is the zoo's estimate (Funani weighs about 80 times that).
Copyright FREEL - NBC Local Media