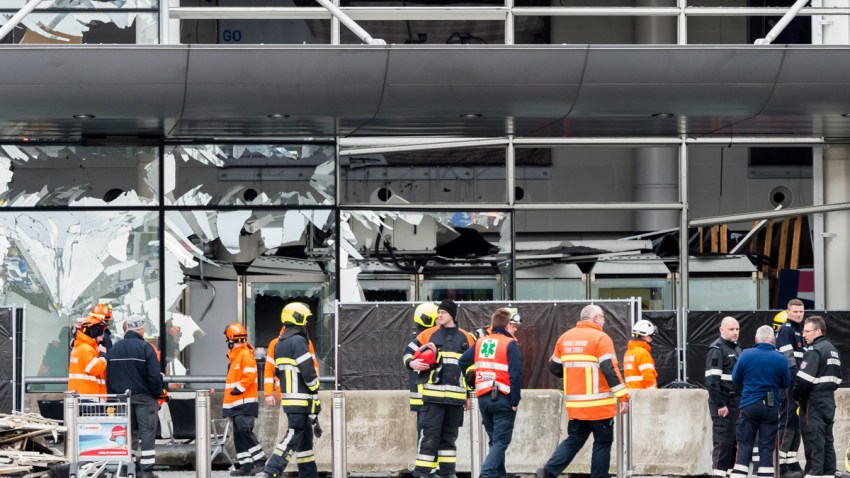 Belgian prosecutors charged three men with terrorism-related offenses Saturday, including a suspect believed to have participated in this week's suicide bombings at a Brussels airport and subway station.
The federal prosecutor's office said an investigating judge formally handed down a warrant for a man only identified as Faycal C. NBC News later confirmed his full name to be Faycal Cheffou. He is charged with "taking part in a terrorist group, terrorist murder and attempted terrorist murder." Chwas one of six people detained in police raids Thursday.
A police raid was conducted at his home. No arms or explosives were found, prosecutors said.
Belgian media are reporting that a man with the same initials was suspected of fleeing the Brussels airport after his two alleged accomplices blew themselves up there. NBC News has not independently confirmed these reports.
A man identified as Rabah N., who was mistakenly identified as Salah A. in a previous news release, was charged in connection with a terror plot in France that was foiled by police, according to the statement. Another man, Aboubakar A. was charged with participation in the activities of a terrorist group.
A manhunt has been underway for one of the airport attackers who was recorded on a surveillance video and fled the scene. Prosecutors have not said how many attackers there were in total, or how many accomplices might be at large.
But they said Friday that DNA analysis and an official investigation had confirmed one of the suicide bombers at the airport was Najim Laachraoui, 24, a suspected bomb-maker whose DNA was also found on a suicide vest and bomb used in the Paris attacks. European security officials had earlier in the week confirmed his identity to The Associated Press, thus linking the Brussels and Paris bloodshed.
On Friday, dozens of heavily armed officers swept into Brussels' Schaerbeek neighborhood, as well as the Forest and Saint-Gilles districts, the Belgian federal prosecutor's office said. One unidentified suspect was arrested at a tram stop, one of a spate of detentions across Belgium and France.
Schaerbeek district Mayor Bernard Clerfayt told RTBF the raid was linked to the Brussels attacks as well as Thursday's detention in France of a man authorities said was in the advanced stages of plotting a new attack.
The 34-year-old suspect, Reda Kriket, has a past Belgian terrorism conviction and was linked to the suspected ringleader of the Paris attacks, Abdelhamid Abaaoud, officials told the AP.
Meanwhile, the top suspect in the Paris bombings, Salah Abdeslam, who was captured in Brussels one week ago, has stopped cooperating with police and "no longer wants to talk," said Justice Minister Koen Geens. Abdeslam exercised his right to silence during the second of two rounds of questioning on March 19, prosecutors said. France is seeking his extradition, and his lawyer said he is prepared to go.
The developments come as Brussels airport officials moved to assess the damage caused by twin explosions at the terminal on Tuesday.
Authorities have wrapped up their investigation of the crime scene at the airport, and will allow engineers into the building to check its structural safety and information technology systems — and whether any damage can be repaired quickly.
Brussels Airport, which handles 23.5 million passengers annually, said it would be Tuesday at the earliest before flights resume.
The transport disruptions will do little to ease the worries of jittery Europeans, who are wondering how many violent extremists remain at large, and where and when they might strike again.
Authorities believe both the Brussels attacks and the Nov. 13 bombings in Paris that killed 130 people were plotted from Belgium.
Copyright AP - Associated Press