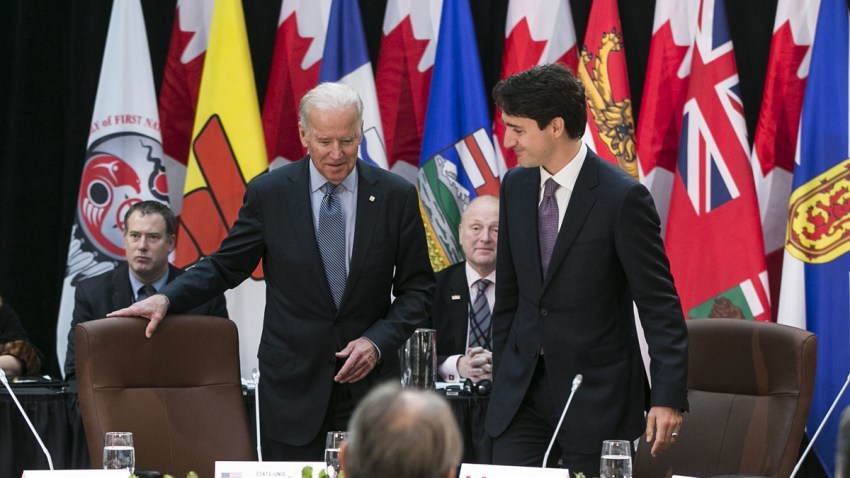 Outgoing U.S. Vice President Joe Biden urged Canadian leaders Friday to continue to treat efforts to combat climate change urgently despite the incoming administration of Donald Trump.
Biden told Prime Minister Justin Trudeau and Canada's provincial premiers that whatever uncertainty exists surrounding Trump's policies, he is confident America will continue to make progress on a low-carbon future. He said that's because many of the trends are market driven and have already taken hold and because states and cities are taking action.
Trump has called global warming a "hoax" and says he plans to abandon the U.S. commitment to reduce carbon emissions as part of the international agreement signed last year in Paris.
U.S. & World
Trudeau is working on a national carbon-pricing plan with the provinces, but there are worries about America heading in the opposite direction and how that could put Canadian companies at an economic disadvantage.
"I understand that many of you are concerned about what the new administration will do," Biden said as he sat around a table with Trudeau, provincial premiers and aboriginal leaders gathered for a meeting on climate change in Ottawa.
"Whatever uncertainty exists around the near-term policy choices of the next president, I am absolutely confident the United States will continue making progress in its path to a low-carbon future."
Biden said he was excited to meet with provincial leaders because sometimes states lead the way. He also pointed to companies like Google which he said announced a new goal to power itself with 100 percent renewable energy starting next year.
"Regardless of whether the next administration is as aggressive as we have been, there's no way to turn back — I'm not suggesting they intend to — but there's no way to turn back this tide that has begun to roll," Biden said. "The question is time. Time is of the essence. There are plenty of reasons to be hopeful, but no reason to be anything other than feeling an overwhelming sense of urgency."
Canada's provincial leaders are not unanimous in agreeing to Trudeau's carbon tax but they continued to meet Friday. Saskatchewan Premier Brad Wall refuses to agree to the tax and British Columbia Premier Christy Clark said elements of the deal may have to be set aside for further assessment. Trudeau hopes to impose a national carbon tax that would rise to $50 Canadian (US$38) a ton by 2022.
"The new Trump administration, most assuredly, will not be implementing a carbon tax," Wall told reporters. "We compete with the Americans in our province for drilling rigs. Our farmers compete with their farmers. Competitiveness for Canadians matter especially at a time when our energy sector is reeling from low commodity prices."
Copyright AP - Associated Press