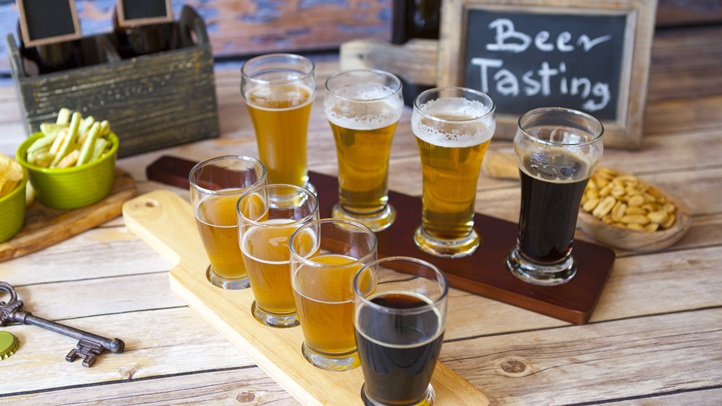 THE SUDS OF ROUTE 78: Wine-tasting routes, and someone to drive you along them, are such a part of Golden State tourism that they can seem as plentiful, and varied, as a shelf holding a hundred different vintages. Some tours involve a van, or bus, some only involve red wines, some focus solely on organic vineyards. But finding that same type of tour that focuses fully on craft breweries is a little trickier. That may be because bespoke-style brew-making is a newer industry, all told, at least in California, than the growing and creation of wine, or because breweries haven't clustered in the way that wineries do. There is crafty clustering going down along Route 78, however, from Oceanside to Julian, and Carlsbad's West Inn & Suites is making it easier for guests to take all of that foamy regional beer-mastery in in one sudsy swoop.
THE HOPS HIGHWAY PACKAGE: The get-better-acquainted-with-area-beers deal goes something like this... You'll check in, enjoy your room, and then meet a brew expert from Sterling Rose. Is that "luxury private vehicle" out in front of the inn your roll for the day? It is indeed. You'll set out along Route 78, stopping at a quartet of breweries to taste, talk about bitterness and depth and tone, and you'll meet some of the people working the big tanks, too. Peeks around the breweries -- touring is part of the deal -- and snacks plus water are part of the package as well. All in all, the day lasts about four hours, and you'll see one of California's Gold-Rush-iest roads (truly, not everything Gold Rush-y happened in the Sierra).
COST AND DATES? This is a Saturday and Sunday kind of thing, and the price starts at $499 for two people (you can book more into your party, up to eight, if you wish). As for the four brewhouses you'll get to know? Stone Brewing, Ballast Point, The Lost Abbey, and Mother Earth Brew Co., too. Will you be an expert on their beverages by the end? That's up to the knowledge you soak in, but just enjoying the Saturday- or Sunday-style easy sipping is pretty choice, too.
Copyright FREEL - NBC Local Media