A Philadelphia artist has disclosed that his museum portrait of former President Bill Clinton contains a shadow reference to Monica Lewinsky's infamous blue dress.
Nelson Shanks told the Philadelphia Daily News that a shadow beside Clinton is a literal reference to the dress and a symbolic nod to the shadow the affair cast on his presidency.
"If you look at the left-hand side of it there's a mantle in the Oval Office and I put a shadow coming into the painting," Shanks told the newspaper.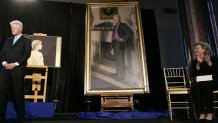 "The Clintons hate the portrait," he said. "They want it removed from the National Portrait Gallery. They're putting a lot of pressure on them."
The National Portrait Gallery in Washington, D.C., commissioned the 2006 painting and had it on display until about three years ago. It's one of 55 images of Clinton that rotate on and off display, spokeswoman Bethany Bentley said.
She said she is unaware of any pressure from the Clintons to have it removed from the collection. Nor had she heard the artist previously comment on his use of imagery.
"That's the first time we've heard of those comments," Bentley said.
[NATL] Top News Photos: Pope Visits Japan, and More
A Clinton spokesman did not immediately return an email message seeking comment.
The stained dress became a piece of evidence in Ken Starr's special investigation of the 42nd president.
Shanks, 77, has painted Princess Diana, Pope John Paul II and other luminaries. He has two pieces currently on display at the portrait gallery, one of opera singer Denyce Graves and the other of the four female Supreme Court justices.
Copyright AP - Associated Press