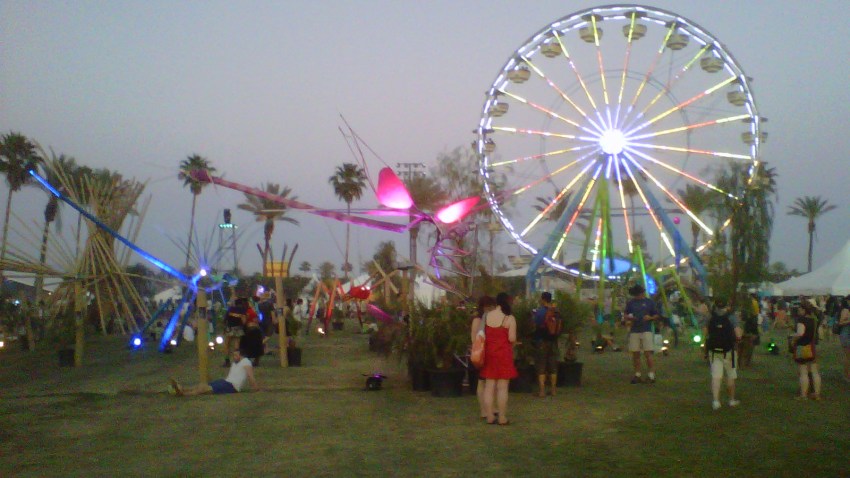 The crowd at the Coachella Valley Music and Arts Festival on the first night of the three-day concert series, gathered around six stages in 90-degree heat, numbered 50,000-80,000 Friday and included celebrities such as Vanessa Hudgens, Robert Downey Jr. and Kate Bosworth, among others.
Among the top acts performing were Grammy-winning rapper Cee Lo Green, who took the main stage a little late and who had his audio cut about 5:40 p.m. while singing a cover of Journey's "Don't Stop Believin'."
"It's all my fault," he told the crowd. "Blame me."
Green said his plane landed late.

FOR MORE INFORMATION | Complete Coverage of Coachella
Lauryn Hill, who burst on the scene 13 years ago with the "Miseducation of Ms. Lauryn Hill," was also a little late, leaving the fans waiting for about 15 minutes. But she finally got her big band -- complete with a brass section and backup singer -- going.
The big draw was the Kings of Leon, who started shortly before 10 p.m., performing their hits "Use Somebody" and "Sex on Fire," among lesser known favorites such as "Molly's Chambers."
Actress Ashley Greene of "Twilight" fame, who is said to be boyfriend to KOL's bass player, Jared Followill, was among the crowd.
Paul McCartney was spotted in the crowd for the Black Keys show. Usher and Danny DeVito also were in the mix, reported the Desert Sun.
The British electronic-music duo, The Chemical Brothers, closed the first night, taking the main stage about 11:45 p.m.

SEND US YOUR COACHELLA PICTURES | Email Us at isee@nbcla.com
The gates at the Empire Polo Club open at 11 a.m. Saturday, with the Montreal-based indie rock band on the main stage at 11:20 a.m.
Among the other bands set for today are Animal Collective, Big Audio Dynamite, Bright Eyes, Broken Social - Erykah Badu, Jenny and Johnny, Mumford & Sons, The New Pornographers and Wire.
A few problems with the computer-chipped, admission wristbands yesterday caused crowds to back up at the gate. The concert series has been sold-out since January.
In Palm Springs Friday afternoon, two young men told police that two thugs with knives robbed them of their wristbands, which are the equivalent of tickets. The face price for each is around $270.
Police urged people to be on the lookout for bogus wristbands and printed paper tickets. No paper tickets or printouts from Ticketmaster will be honored.
Indio police arrested nearly 20 people.
The arrests, as of midnight, were mostly for public drunkenness and drug possession, said Indio police spokesman Ben Guitron.