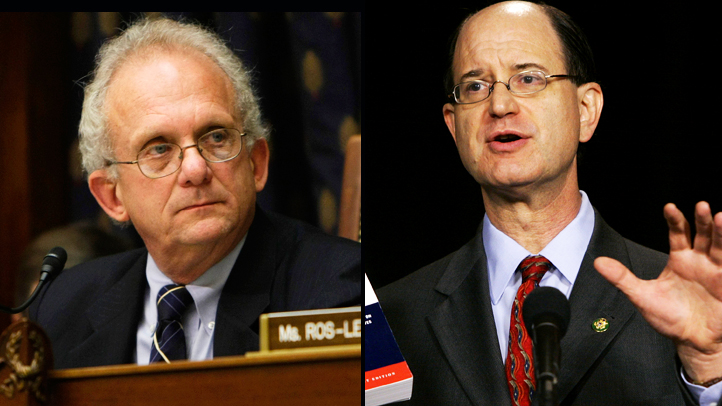 OK, class—today we'll review a fine example of political science at work in the real world: the hotly contested race for California's new 30th Congressional District.
It pits two long-time Democratic incumbents—Reps. Howard Berman and Brad Sherman—against each other.
Thrown together in a single district by California's fledgling Citizens Redistricting Commission, only one can survive to return to Washington.
Gene Maddaus of the LA Weekly described the race as a battle "to determine which bald, Jewish Democrat who voted for the Iraq War will continue to represent the San Fernando Valley."
True.
In some respects the election is a referendum on style and approach versus substance. But it's more than that.
It's another go-round in a debate that has defined American politics for well over 200 years: What exactly does "representative" mean? How does—should—a "representative" represent his/her constituency?
Eighteenth century political philosopher Edmund Burke framed the "trustee" model of representation.
Constituents "entrust" their elected officials with sufficient autonomy to make Big Decisions, which favor the greater public good but might rub against the short-term interests of the representatives' own constituents.
The flip side of representation is the "delegate" model, which instructs elected official to carry out only the mandates given to them by their electorates; representatives serve solely as an "instrument "of their constituencies' will.
Arguably, the "trustee" candidate in the 30th CD race is Howard Berman and the "delegate" is Brad Sherman. Berman is described in The Almanac of American Politics as "an active legislator on all manner of issues"—from national concerns such as foreign policy and immigration to intellectual property rights, an issue of direct importance to his Hollywood constituents.
Sherman has been far more visible in his home district (which accounts for over 50% of the new district, according to the California Target Book) and he boasts of holding over 150 Town Halls (Berman has just recently begun that ritual in earnest).
The wizened scribes of the political blog CalBuzz have observed that Sherman is "not regarded as a serious player in Congress. He's a constituent guy."
In fact, that is one of Sherman's own major selling points.
He's spending much of his time and energy portraying Berman as what is currently that most dreaded political animal—"the Washington Insider."
Indeed, Berman has been embraced by almost every Democratic heavyweight, including most of the California Democratic Congressional delegation, as well as some high visibility Golden State Republicans.
For Bermanites, that's a testament to the Congressman's success in using his legislative skills both here and Inside-the-Beltway.
The Sherman camp reads the tea leaves differently. They point to Berman's Washington ways as a sign he's "out-of-touch" with the district's constituencies. Elsewhere, that charge has been a powerful one against incumbents in this virulent election year.
When the smoke clears—probably not until November what will influence voters more? Style or substance? Which approach to governance will the voters of the 30th CD embrace? The candidate as "trustee" or as "delegate"?
However Valley voters decide, I agree with CalBuzz: "Who defines the race, wins the seat."
Sherry Bebitch Jeffe is senior fellow at the USC Price School of Public Policy and the political analyst for NBC4.
Send us your thoughts via Twitter @PropZero or add your comment to our Facebook page.