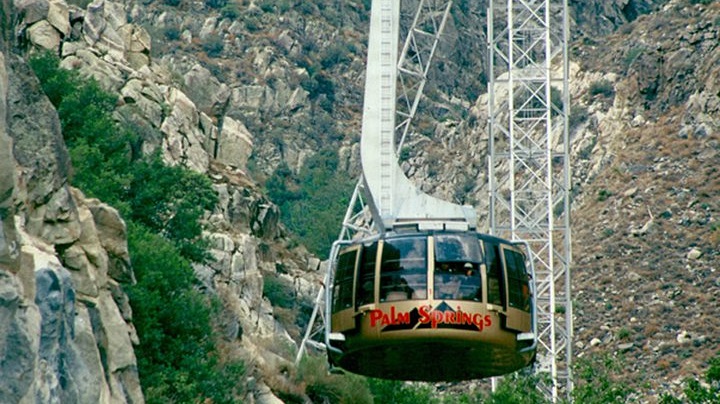 THE DESERT RESORT CITIES... bustle all year long, with two versions of Modernism Week popping up in the fall and wintertime, and the Palm Springs International Film Festival settling in just after the new year. But it can feel as though things truly hit a zenith, or a crescendo, or a really dramatic point, when the April music festivals swing through. The Coachella Valley Music and Arts Festival is up first, followed by Stagecoach, and then... May arrives, a time that's sometimes thought to be quieter around the area. The mercury is rising, the mondo events are chilling (save the fabulous Restaurant Week, a warm-weather staple), and life is getting a little less hectic. Meaning it is the perfect time to hit your favorite desert hotel, your go-to motel, a swimming pool you adore. If you do dig those summer specials around the desert, and you plan on spending some time, May through August, in the area, best find your way to the...
SUMMER PASS... at the Palm Springs Aerial Tramway. Think of it as four months of fun, and if that fun isn't exactly frosty, it is far cooler than the desert, for the historic tram takes you up, up, up to Mountain Station, which sits at over 8,500 feet. The cost? It's eighty bucks, and you'll snag "unlimited Tram admissions" for that price, as well as a few other nifty discounts, like 10% off up to six other admissions for those in your crew. Once you're at the top of the tram, there are food choices, big views, and some 14,000 acres of "pristine forest" to enjoy (yep, it's the Mount San Jacinto State Park and Wilderness Area you'll be exploring). And the temperature, while not wintry, will be milder than the toasty scene at the poolside you've been frequenting in the desert below.
SUMMERTIME IN PALM SPRINGS... is sublime, very sunny, famously toasty, and a great time to be be out, if the three-digit days are your jam and deals here and there your pleasure. Here's one: Four months of Tram-tastic riding, to a cooler mountain area, for notably less than a hundred dollars. It opens on May 1, and ends on the final day of August 2018.
Copyright FREEL - NBC Local Media