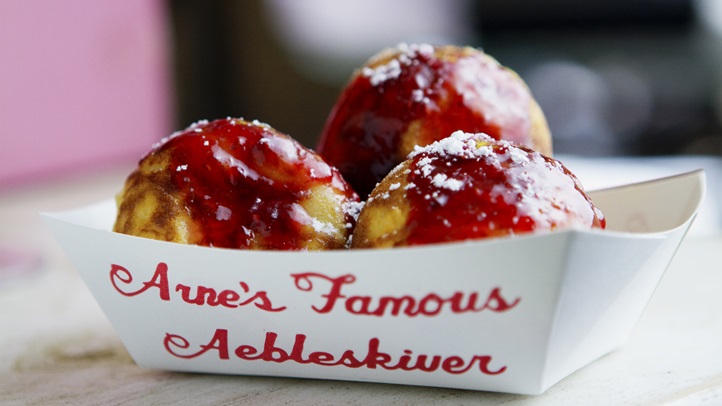 PLEASURE OF THE PASTRY: If you've spent a long and happy day in Solvang, and you're amenable to batter-licious balls of lightness and airiness, then you've likely spent a lazy twenty minutes enjoying forkful after forkful of an aebleskiver. For sure, the aebleskiver, an orb-like pancake-y creation that's the star sweet of Solvang -- the star food, really -- can be eaten in a more expedited manner. But if you've spent an afternoon wine tasting, or shopping for clogs and traditional Danish toys, you don't want to rush things in the aebleskiver-anticipation department. You're going to savor that little ball, jam and powdered sugar and all, as long as possible, while resting your tootsies.
PREPARE, SWEET EATERS: That, however, will not be the course of action for many eager aebleskiverers come Saturday, Sept. 19 and Sunday, Sept. 20. That's the weekend of Danish Days, the town's liveliest party (alongside the holiday-time Julefest and Taste of Solvang in the spring, of course), and one of the highlights of the weekend is the aebleskiver-eating contest. It is, in fact, such a highlight that it shows up twice on the schedule, though whether anyone attempts both contests in one weekend is a question. Because a lot of aebleskiver, chewed quickly, is filling, one can imagine. Though the time limit isn't too long. The contest lasts for five minutes.
IF DEVOURING THE DOUGHY DELIGHTS... in fast fashion isn't your bag, you're in luck. There's an aebleskiver breakfast both mornings of the festival, at Copenhagen Drive & First Street, and for the price of seven bucks you can bite into the treat in a much more sedate and stately manner. Add a buck on and have some Danish sausage on the side, if you like (think sweet and savory, a twosome as tried-and-true as an aebleskiver and lingonberry or olallieberry jam).
NEED TIMES... on both the breakfast and the eating contest? They're a few hours apart on both Saturday and Sunday. Best wishes, aebleskiver aficionados, and a delightful Danish Days celebration to you, dear Town o' the Windmills and Wines.
Copyright FREEL - NBC Local Media