A New Jersey man whose car plunged into the icy Delaware River Sunday is accused of leaving his girlfriend to die after he escaped from the submerged vehicle and fled the scene, authorities said.

Police say Jacob Garrett, 24, of Burlington City, was driving "at a high rate of speed" with Stephanie White, 23, also of Burlington City, in the passenger seat shortly before 1 p.m. along Riverbank Road when his car struck a parked minivan. The impact caused the car to vault over the river wall and fall into the ice-covered water below.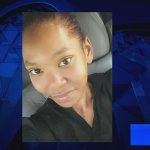 As the vehicle became submerged in water, witnesses helped Garrett get out of the car while White remained trapped in the passenger seat, the Burlington County Prosecutor's office said in a statement. Garrett then allegedly told witnesses to "help my girlfriend" before fleeing the scene.

"He left his girlfriend in the water to die," said Burlington City Police Captain John Fine. "When he crashed his car the vehicle went into the water, he got out, said take care of my girlfriend, and ran away. That's an offense in itself."

White was still wearing her seatbelt when responding firefighters pulled her out of the submerged vehicle. She was taken to Lourdes Medical Center where she was later pronounced dead.
A Burlington City police K-9 tracked Garrett to a nearby River Line light rail station. Authorities stopped the train at the Beverly/Edgewater Park station and arrested Garrett, who was soaking wet, the prosecutor's office said.
"I just can't believe that he was such a coward and left her there," said Victoria Wood, Garrett's neighbor.

Garrett was charged with leaving the scene of a fatal accident, causing death while driving with a suspended license and endangering an injured victim. He was held Monday in the Burlington County Jail and is scheduled to appear in Superior Court in Mount Holly, New Jersey.
"He was just always a bad seed," Wood said. "He'd come in here blasting his music. All of us called the cops all the time."
Those who knew White said she worked as a waitress to help her mother raise her younger foster brother.