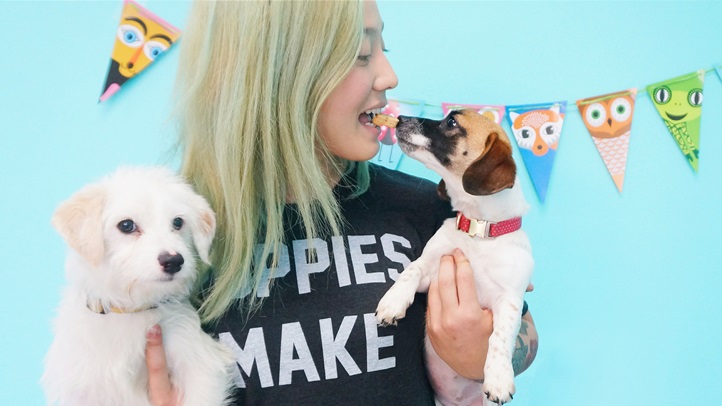 Note: Please leave your own pup at home when visiting The Dog Cafe. It's a place for meeting adoptable dogs only.
While cat cafes hold paw-ferful, tail-swishing sway in several parts of the world, finding a dog cafe, a place where you can have a sip of something cool and visit with a cute canine, remains a rarer beast.
But pup people have been following the pursuits of Sarah Wolfgang, a passionate advocate for our furry friends, especially those in need of a home. The longtime volunteer, who has been involved with dog rescue for many years, wanted to open America's first dog cafe in Los Angeles, a goal that received wide local attention via a "Pup-up" event in early 2015.
Ms. Wolfgang's dream of drinks, dogs, and the happy atmosphere created by both had an early start. Her interest in these lively destinations flowered when her family moved to Korea, which is home to many cafes that invite patrons to socialize with on-site animals. She saw the bonds formed, and how both person and pooch benefited from the interaction.
Now the animal advocate's dream is about to flower further: On Thursday, April 7, after many months of fund-raising and preparation, The Dog Cafe will make its debut in Silver Lake.
Look for extreme romping and cuddling to go down at 240 N. Virgil Avenue. As for days and hours? Trot for the spot Tuesday through Sunday from 11 a.m. to 7 o'clock. You can reserve your spot in advance, which might be a good idea, as many a dogist will be ready to get some on-the-floor huggy time.
Because dog cafes are new-ish, at least 'round these parts, you may have questions. Like, is the beverage-serving area in the same room as the pups? It is not, but rather in "an adjacent space next door."
There is also an admission of ten dollars, which nets you both time with the hounds and a lemonade, tea, or coffee ("or a discount off a specialty beverage"). Grounds & Hounds Coffee Co. and Dogs Drink Coffee are the outfits behind the java. A portion of all proceeds will go "to animals in need."
A note: The Dog Cafe is open to kids 5 and older, but all youths between the ages of 5 and 17 must visit the cafe with a parent or legal guardian.
Retail from The Dog Company will also be sold at the cafe.
As for falling in love with one of the rescues? That could very well happen. Ms. Wolfgang is working with many regional shelters to find those Fidos "who would best benefit from socialization at The Dog Cafe." It's a good point to remember, as petting a pooch isn't simply a sweet but unimportant thing to do. You'll be lending some needed love to an animal who craves it, and who may come further out of his shell because of a show of kindness.
It's big-hearted stuff, and it is preparing to bark for joy in Silver Lake.
Copyright FREEL - NBC Local Media