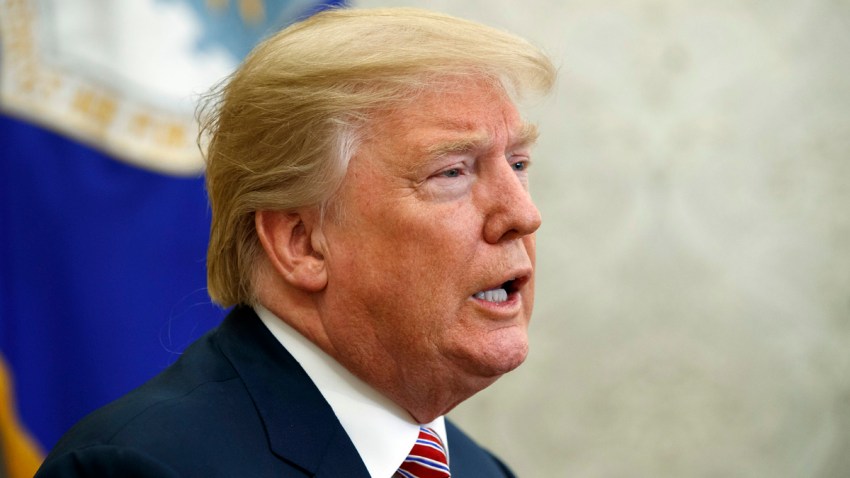 In his zeal to lay blame on his predecessor, President Donald Trump has given a problematic account of how the Russia investigation began. Here's a look at his latest statement on the subject:
TRUMP: "Why did the Obama Administration start an investigation into the Trump Campaign (with zero proof of wrongdoing) long before the Election in November? Wanted to discredit so Crooked H would win. Unprecedented. Bigger than Watergate! Plus, Obama did NOTHING about Russian meddling." — tweet Monday.
THE FACTS: Despite his conspiratorial tone, it's not unusual for investigations to start without proof. They tend to start with suspicions.
Criminal charges brought in the last six months suggest that by July 2016, when the FBI opened its counterintelligence investigation into Russia and the Trump campaign, there were indeed reasons for law enforcement to be concerned.
By that point, for instance, a foreign policy adviser to the Trump campaign, George Papadopoulos, had learned that the Russians believed they had "dirt" on Democratic presidential candidate Hillary Clinton in the form of thousands of emails. Papadopoulos has pleaded guilty to lying to the FBI about his contacts with people who claimed a relationship with Russian officials.
No evidence has emerged that President Barack Obama used this matter to try to help Clinton in the election. Obama has actually been faulted — by some Democrats and by Trump himself in this same tweet — for not doing enough about the level of Russian interference he was being briefed about.
For example, the Obama administration did not make public the existence of the Russia-Trump campaign investigation until after the election.
As well, memos released by both Republicans and Democrats on the House intelligence committee have confirmed that the FBI opened its investigation because of the concerning information about Papadopoulos. That was weeks before the FBI was presented with a dossier of raw intelligence compiled by former British spy Christopher Steele, whose work was paid for by the Clinton campaign and the Democratic National Committee.
While it's arguable whether Obama did enough about Russian meddling, Trump is wrong to say he did "NOTHING."
Before the election, Obama did make public the discovery that the DNC and Clinton campaign chairman John Podesta's emails had been hacked by Russian-linked players and he warned about the risk of compromised balloting in the November election.
After the election, Obama expelled 35 Russian diplomats suspected of being intelligence officers and seized two Russian country estates, in Maryland and New York, that the State Department said were used for intelligence activities.
In contrast, the Trump administration has not yet penalized any Russian officials for interfering in the 2016 election.
Associated Press writer Chad Day contributed to this report.
Copyright AP - Associated Press