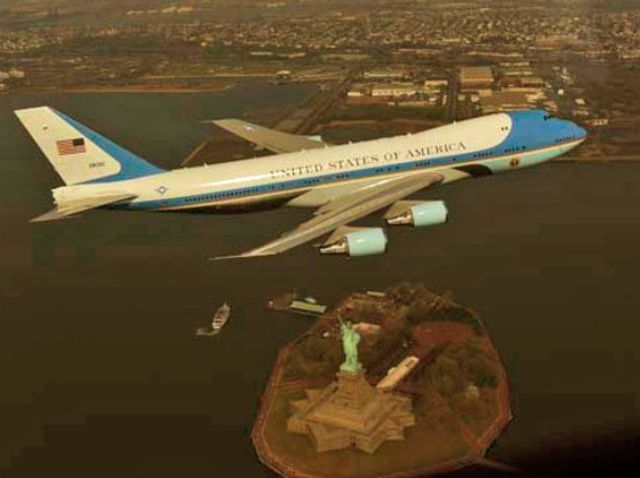 When the Pentagon wanted to know what people were saying about the ill-advised Air Force One photo-op flyover of Manhattan, it turned to Twitter, Facebook and YouTube.
Newly released government documents show the military used the same Internet tools it warns employees about to monitor and react to coverage events, including the April 27 episode, in which the president's plane was flown over the Statue of Liberty without sufficient notification to New York City officials. The sight of the plane bearing down on Lower Manhattan freaked out Wall Streeters still traumatized by the 9/11 attacks.

The Air Force tracked Twitter, YouTube and various blogs to assess the ensuing PR debacle, according to the documents, obtained by The Associated Press. Those same sites are popular with service members who want to keep in touch with friends and family, but the Pentagon has warned them against posting potentially sensitive information.The Marine Corps goes as far as to block access to social media sites.

Deputy Defense Secretary Bill Lynn said in a recent memo that "Web 2.0" sites are important tools but more study is needed to understand their threats and benefits.

According to the Air Force One documents released through the Freedom of Information Act, a unit called the Combat Information Cell at Tyndall Air Force Base in Florida monitored the public fallout from the April 27 flight and offered recommendations for dealing with the fast-breaking story.

Media coverage over the 24 hours following the flight "will focus on local hysteria and lack of public notification," the cell quite accurately predicted. "Blogs will continue to be overwhelmingly negative." The next day, the Combat Information Cell reported that the story was still "reverberating, surprisingly resilient," and offered a tally of tweets per minute involving the incident.
Air Force spokesman Al Eakle said the unit tracked social networks and blog traffic "to obtain what lessons we might learn so as not to repeat them in the future."
Copyright AP - Associated Press