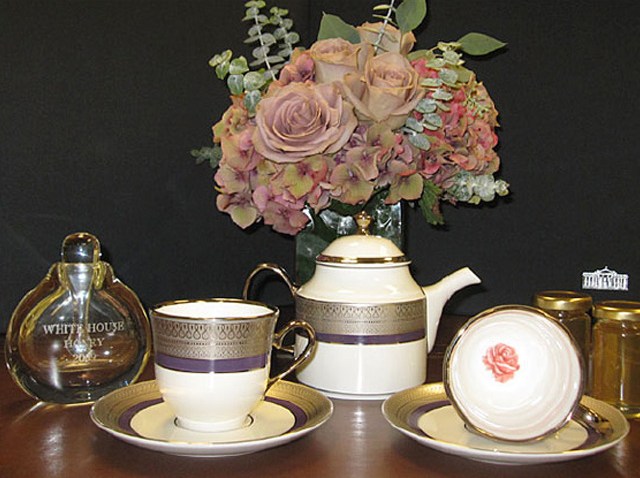 What do you give the world leader who has everything?
How about some one-of-a-kind porcelain tea set and a jar of honey?
That's what first lady Michelle Obama decided to give to the visiting foreign dignitaries who arrived in Pittsburgh for the G-20 summit.
The White House described the tea set:
The platinum and purple porcelain design of the tea cups is classic and contemporary and inspired by the gold and purple White House China that President and Mrs. Lincoln used in 1861. The use of platinum on the saucer symbolizes Pittsburgh's steel industry roots; the use of purple is the color of the state flower of Illinois, the purple violet, home states of both Presidents Lincoln and Obama. The porcelain is one-of-a-kind and made by a century old family business in Illinois.

A rose in the bottom of the tea cup represents both the official flower of the United States and the American beauty rose, the official flower of Washington. There is a delicate three-flower bouquet that sits in the well of the saucer. It consists of the purple violet, the state flower of Illinois, the Mountain Laurel, the state flower of Pennsylvania and a rose, the national flower.
But what's up with the honey? It was actually produced from honey collected at the White House hive, which is near the first lady's garden. Sustainable and tasty. It is held in a glass vase, which was hand-blown and shaped by a California artist.
And if the world leaders ever forget who gave it to them, the first lady made sure to autograph each one.
We're sure Mahmoud Ahmadinejad and Moammar Khaddafy are very appreciative.