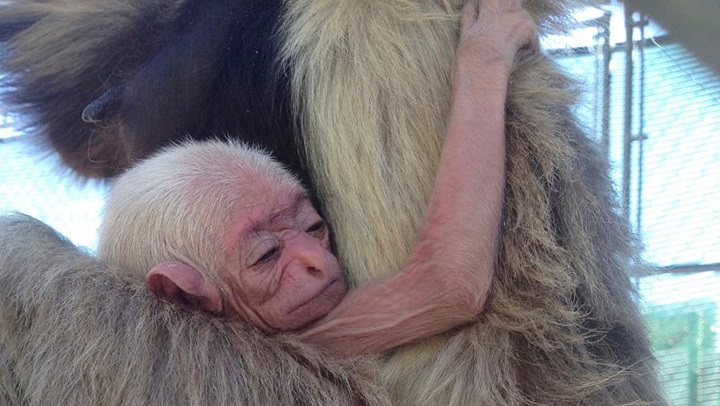 ANIMAL OFFSPRING: An infant at an animal park or preserve is typically an anticipated event, with staffers awaiting the new koala or giraffe or condor. But beasties have a way of surprising we humans -- they always have and always will -- and sometimes a bouncing baby that was not expected arrives to exclaims and well-I-nevers and a flurry of doctor check-ups and announcements. Such was the case at the Gibbon Conservation Center in Santa Clarita earlier this month.
Tuk, a female gibbon who appeared to be "just a little bit pudgy," gave birth to a baby girl on Wednesday, April 9. "It's the third offspring for Tuk and Domino," reads the center's Facebook page, which goes onto explain why the infant's arrival took staffers unaware. Tuk had been implanted with a contraception device, which leads the center to believe the pregnancy began just beforehand.
THE NEW BABY... debuted alongside her mother in a series of sweet photos. "Strong and healthy" is how the center describes her, so bet she'll be participating in the gibbons' famous vocal "songs" very soon (if you visit the center on one of its weekend-morning walk-throughs, you're apt to hear the memorable vocals).
VISITING THE CENTER: While self-guided tours are available each weekend, you can book a private tour, too. And the center hosts fundraisers quite often, like bowling tourneys, so keep an eye if you want to lend a hand. The GCC was founded in 1976 and "houses the rarest group of apes in the Western Hemisphere," assisting in rescue programs, study, and more conservation efforts.
Copyright FREEL - NBC Local Media