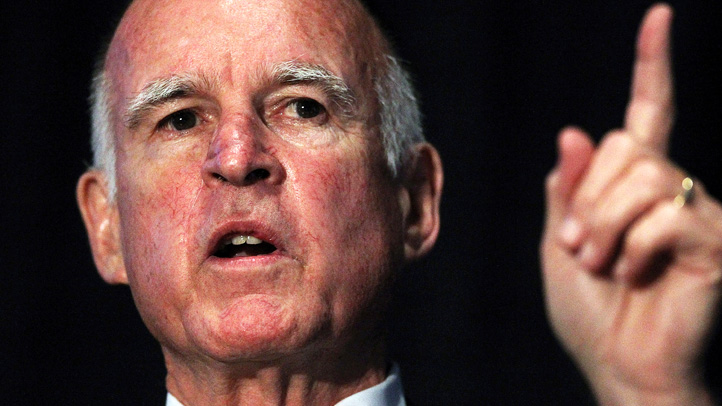 Gov. Jerry Brown ended one of the Capitol's hottest guessing games Friday afternoon, announcing that he had signed a much-disputed measure, SB 202, that moves all future initiatives to the November ballot.
No more initiatives will be allowed on the June primary ballot.
In so doing, the governor has given a tremendous boost to his union allies who helped elect him. Labor is extremely worried about a pending initiative, backed by business interests, that would limit how much campaign cash could be collected from members for political campaigns.
Unions have beaten back such measures before, but they would've been at a disadvantage in trying to beat it in June, when voter turnout is traditionally low. Moving the pending measure to November, in a presidential election year, gives labor much more leverage.
SB 202 was the creature of last-minute closed-door maneuvering in the closing hours of the legislative session.
It was never clear what Brown would do. But in his signing message Friday, he said, "The idea of direct democracy is to involve as many voters as possible. This bill accomplishes that objective."
Brown's signature is sure to infuriate Capitol Republicans, since it undoes part of a budget compromise approved last year, by delaying a vote on increasing the state's rainy day fund. Republicans will see this as a betrayal and a further worsening of the toxic atmosphere that pervades the Capitol.
Late Friday afternoon, Republican attorney Charles Bell filed a letter with the attorney-general's office, indicating that a referendum is being launched to let voters decide the fate of the newly-signed law.
Brown's move also angers another key group.
Broadcast executives are extremely unhappy, since moving initiatives to November cuts off a lucrative source of advertising dollars for TV stations up and down the state.
Let us know what you think. Comment below, send us your thoughts via Twitter @PropZero or add your comment to our Facebook page.