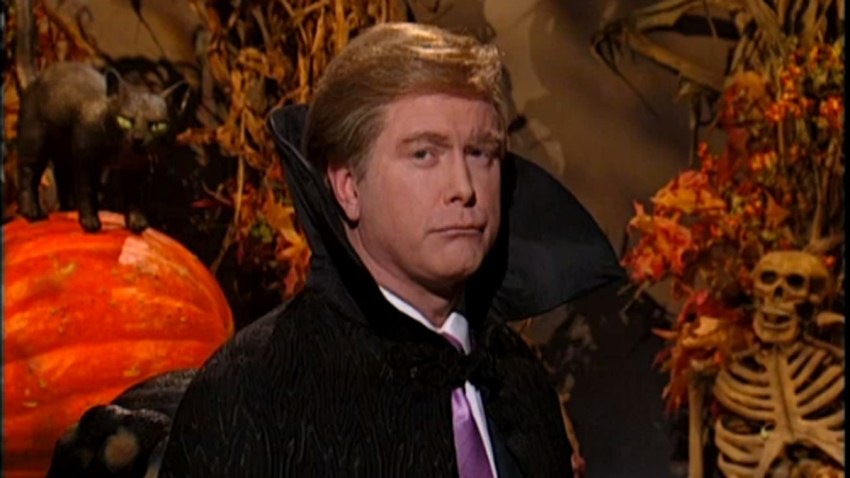 Halloween might be about all things spooky, but for "Saturday Night Live," there's still plenty of room for laughs.
Since the show begun its run in 1975, "SNL" has put on some of the most memorable Halloween sketches and provided endless inspiration for costumes based on the show's recurring characters.
From Jimmy Fallon's Halloween carols to Rita Delvecchio's trick-or-treater shaming, take a look at some of "SNL's" top Halloween sketches:
Weekend Update: Stefon on Halloween's Hottest Tips: Season 38, 2012
Stefon makes an appearance on Weekend Update with Seth Meyers to give NYC tourists tips for Halloween. Some of his favorites include a club with hobo-cops, eating "fraisans" - raisins that look like Frasier, and a human piñata.
"The Apprentice" Halloween Promo: Season 30, 2004
In vampire attire, Darrell Hammon's Donald Trump directs a promo for a Halloween episode of "The Apprentice." Channeling his inner "Count Trumpula," he stays true to character as he throws up peace signs while bragging about how high the promo's ratings will be.
Adam Sandler on Halloween Costume Ideas: Season 17, 1991
Adam Sandler tries to help save parents a couple bucks by giving kids his best ideas for Halloween costumes. Some include using your own face to be "Squishy Face," and "G-Force Man." Others include using arms and hands to execute the "crazy hand coming out of the neck guy."
"Weekend Update:" Drunk Uncle on Halloween: Season 40, 2014
Drunk Uncle, dressed as "America in the Garbage" makes an appearance on "Weekend Update" with Michael Che and Colin Jost to talk about the horror that is Halloween. From getting trapped in a "Native American maze," to goji-berries being delivered to DropBoxes, Drunk Uncle has a lot to say about the changes that have affected the holiday.
Rita Delvecchio's Halloween: Season 22, 1996
Rita, an Italian-American housewife, has had it with Halloween. She screams at trick-or-treaters throwing toilet paper rolls at her house, calls a boy dressed as David Hasselhoff "the primetime pimp," and threatens to throw her shoe at kids. Her friend Loretta even stops by to take part in the trick-or-treater shaming.
The Exorcist 2: Season 1, 1975
In this episode, two scared priests pay a visit to a young girl who's been possessed by the devil. She throws hot soup in one of their faces, bashes the priest over the head with a glass vase and even insults their mothers. It's safe to say that the priests can only take so much of the child.
"Weekend Update:" Jimmy Fallon on Trick-or-Treating: Season 24, 1998
Jimmy Fallon joins the "Weekend Update" desk to share his favorite "Halloween Carols." Some include his own spin on the Matchbox Twenty song, "3 a.m." involving someone wearing the same costume as his girlfriend. And that's just the beginning of the music.