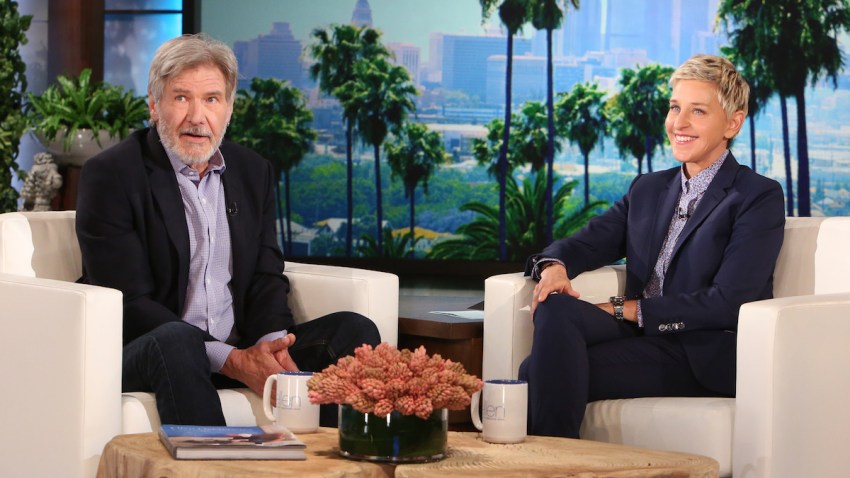 Harrison Ford's adventures as Indiana Jones will continue, but it's over for him as Han Solo.
The actor made a surprise appearance on "The Ellen DeGeneres Show" Tuesday and was asked to weigh in on the upcoming Han Solo origin story, slated for release on May 25, 2018. First and foremost, the 72-year-old actor wanted to make it clear that producers are not looking for a "new" Han Solo, but rather a "young" Han Solo.
Host DeGeneres then asked Ford if he had any advice for whomever is cast in the role, to which he dryly replied, "Don't do it."
According to Ford, job security isn't what it used to be. "First, it seems like everything's going swimmingly. And then you spend 25, 30 years and they just let you go. They show you the door," the actor joked in reference to Han Solo being killed off in 2015's "Star Wars: The Force Awakens," which will be available for digital home download starting April 1. "'We're done with you. Thanks very much.'"
Of course, Ford remains more in-demand than ever. "You could become the next James Bond," DeGeneres suggested. Ford seemed surprised at first, but only for a moment. "OK. I can do that," he said. "Yeah."
"But," DeGeneres said, "you are also doing another Indiana Jones. Can you tell us anything?"
"No," Ford said. "When they tell me, I can come back and tell you."
Check out the full interview above.
PHOTOS: Harrison Ford's movie roles
NEWS: Why Harrison Ford is doing a fifth Indiana Jones movie
Copyright E! Online