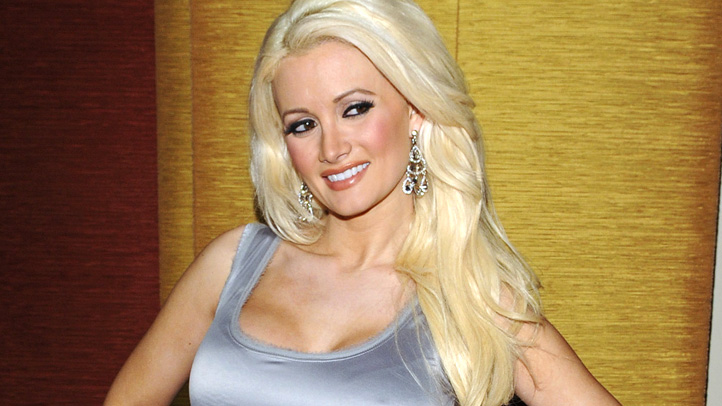 Holly Madison truly had the wedding of her dreams on Tuesday night.
E! News has confirmed that the former "Girl Next Door" married longtime beau Pasquale Rotella at Disneyland and proceeded to celebrate in true fairy-tale fashion.
A source told E! that Cinderella's glass carriage was commissioned to drive the couple down Main Street and a footman (presumably one who wasn't going to turn back into a dog at midnight) was on hand to help the bride get in and out of the gleaming coach.
The park shut down early for the very special occasion and the ceremony got underway at the Blue Bayou restaurant in New Orleans Square, shortly after 9 p.m.
PHOTOS: Stars enjoying Disneyland and Disney World
The source said that about 150 guests were ferried by train to the nuptials site and in addition to friends, family and the couple's baby daughter, Rainbow Aurora (whose middle name is from "Sleeping Beauty," remember?), some very special characters made the guest list as well.
Mickey and Minnie Mouse and Donald and Daisy Duck were to be involved at the cake-cutting, which was scheduled for 1:15 a.m. by the fountain in New Orleans Square, and chipmunk Clarice (Holly's "fave obscure character") would be making an appearance at the Disney Dream Suite, where the bride was primping with a little help from cast members dressed in 1930s-era costumes, with the main colors being blue, yellow and red.
Once they had said their I-do, the newlyweds planned to ride Pirates of the Caribbean with the wedding party and watch Disneyland's long-running fire-and-waterworks show Fantasmic! before the cutting of the cake.
Longtime pal of the bride Bridget Marquardt seemed to be in the area for the festivities as well, tweeting a pic of a Mickey-shaped pretzel earlier today.
Madison and Pasquale went to secure their marriage license on Monday morning, after which Holly showed off the official piece of paper on her blog, noting that it was the "last wedding prep item taken off the checklist."
The bride had previously teased pics of place settings, gowns and more wedding-related items online, but she ultimately left the real dress reveal for the big day itself.
We can only hope that her fairy godmother managed to make the gown pink...and then blue...and then pink again...no, blue!...as she and the groom made their way around the Magic Kingdom.
Madison and Pasquale welcomed daughter Rainbow in March and announced their engagement in June. This is the first marriage for both. Us Weekly was first to report that they had made it official.
PHOTOS: Check out some celebrity brides who didn't wear white wedding gowns
Copyright E! Online