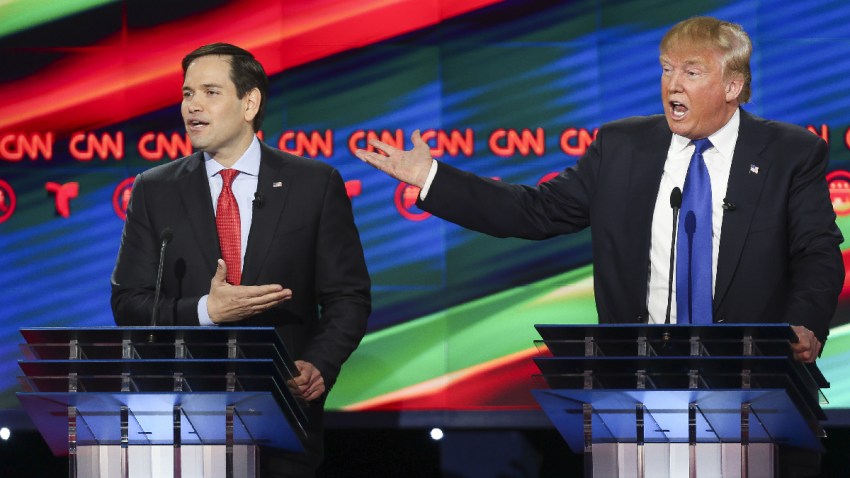 Donald Trump went into Thursday's Republican debate with a significant – if not yet insurmountable – lead for the party's presidential nomination.
Under attack from his closest rivals, Marco Rubio and Ted Cruz, the real estate mogul spent most of the debate defending his positions on everything from Obamacare to whether he's a Democrat in Republican clothing.
The heightened attention, from candidates and moderators alike, even seemed to fluster Trump at one point.
"Every single question comes to me? I know I'm good for the ratings but this is ridiculous," Trump asked amid questions about his tax returns.
Here are some of the ways the candidates took on the Republican frontrunner in the party's last debate before Super Tuesday:
'Selling Watches in Manhattan'
Rubio called Trump a liar, hypocrite and privileged all at once in the first major flashpoint of the debate, which began when Trump was asked about Mexican opposition to the wall he plans to build along the United States' southern border.
Trump said that former President of Mexico Vicente Fox's comments – "I'm not gonna pay for that f*****g wall" – mean "the wall just got 10 feet taller," and started discussing the U.S. trade deficit with Mexico and China.
Rubio shot back: "If he builds the wall the way he built Trump Towers, we'll be using illegal immigrants to do it."
Quickly, he and Trump entered into a back-and-forth, but Rubio hit him with quite a few allegations: Trump shouldn't complain about a trade deficit with China because that's where his suits and ties are made; some people borrowed $36,000 to attend his "fake" Trump University, the subject of lawsuits; Trump is a known liar and that he wouldn't be the man he is today without his father's money.
"If he hadn't inherited $200 million, do you know what Donald Trump would be doing right now? Selling watches in Manhattan," Rubio said.
Trump defended himself, saying he's settled most of the Trump U. lawsuits, and accused Rubio of being a lousy businessman.
But within an hour, Marco Rubio's campaign was pretending to hawk broken Rolexes – "as seen on TV" from the debate.
Secret Palestine Supporter
Trump repeatedly insisted he was the biggest supporter of Israel on stage, but he also said "there is nothing that I would rather do" than bring peace to the Middle East.
"I may not be successful doing it, it's probably the toughest negotiation of any kind in the world, but it doesn't … do any good to start demeaning [Israel's] neighbors," he said.
But Rubio and Cruz said there can be no negotiating with terrorists, citing suicide vests and Palestinians allegedly promoting war with Israel to their children.
Cruz said Trump's stance put him in the same camp as Hillary Clinton, the bogeywoman of the Republican party, and that he's supported "anti-Israel" politicians like Jimmy Carter.
"You don't write checks to people who are undermining Israel," Cruz said.
Rubio lashed out at Trump, too, saying "he thinks Palestinians are a real estate deal."
Clueless on Obamacare
Rubio, Trump's biggest bully Thursday night, needled Trump on his Obamacare plan, and had some fun at the expense of his own recent debate meltdown while he did it.
Trump had been explaining how he would improve on Obama's health care system by letting health care companies complete across state lines. But that wasn't enough for Rubio, who pushed for specifics that weren't forthcoming.
"What is your plan?" Rubio chided over and over again, getting from Trump different variations on "We're going to remove lines around the states."
When Rubio pointed out the repetition, Trump scoffed.
"I watched himself repeat himself five times four weeks ago," Trump said, calling back to Rubio's widely mocked New Hamsphire debate performance, where he repeated an attack on Obama several times, nearly verbatim.
But a smirking Rubio parried Trump's jab: "I watched him repeat himself five times five seconds ago!"
And Rubio summed up Trump's whole campaign as one big, repetitive stump speech: "He says five things: Everyone's dumb. He's going to make America great again. We're going to win, win, win. We're winning in the polls. And the lines around the states."
The Associated Press contributed to this report.
Copyright AP - Associated Press