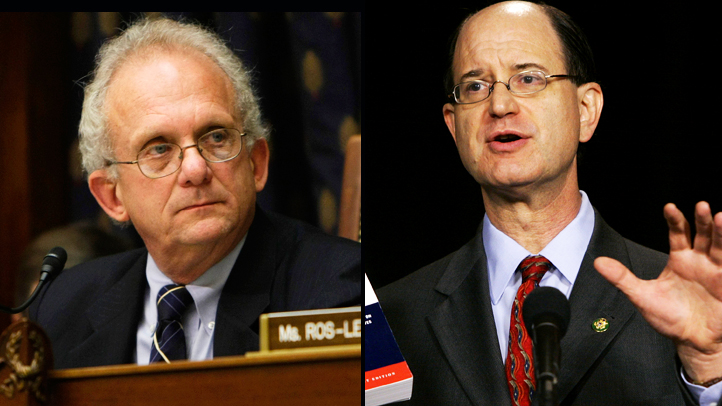 The nasty battle between two incumbent Congressmen -- Howard Berman and Brad Sherman -- over one new San Fernando Valley seat is good fun, certainly for political spectactor.
But will it much matter?
After all, whoever wins, the district is likely to be by similar politicians, as many journalists have observed: by a Jewish Democrat who voted for the war in Iraq.
But the race is also a very interesting test of a major political reform that's been touted as a balm for what ails California: the top-two (don't call it "open") primary.
This election -- and other California elections this year -- will work like this: the top two finishers in the primary, regardless of party, will advance to the general election.
So the question is: will the Berman-Sherman war exist just in the primary?
If these two are the top two finishers, they'll both advance to the general election and repeat the battle all over again.
The other possibility is that only one of the two will advance. With the two splitting the votes of Democrats and independent Democrats, a Republican candidate could advance as well.
Advocates of top two primary like the idea of both Democrats advancing.
They argue that this will make the winner more inclined to compromise and moderate views -- because in the general election, Berman and Sherman would have to compete for the votes of independents and Republicans.
The trouble with top two primary is that very few elections in California will produce two general election candidates of the same party. Even districts dominated by one party usually have enough voters of the other party to send someone into the top two.
My best guess is that this is what will happen in this district -- and that Berman-Sherman will go one round.
Either way, the Berman-Sherman race shows the limits of this top-two primary reform. If the general election pits a Republican against the Berman-Sherman winner, it will be a big victory for the Democrat --rendering the reform meaningless.
If both Berman-Sherman advance, we'll get two rounds of this nasty fight, between two politicians who aren't all that different.
Let us know what you think. Comment below, send us your thoughts via Twitter @PropZero or add your comment to our Facebook page.