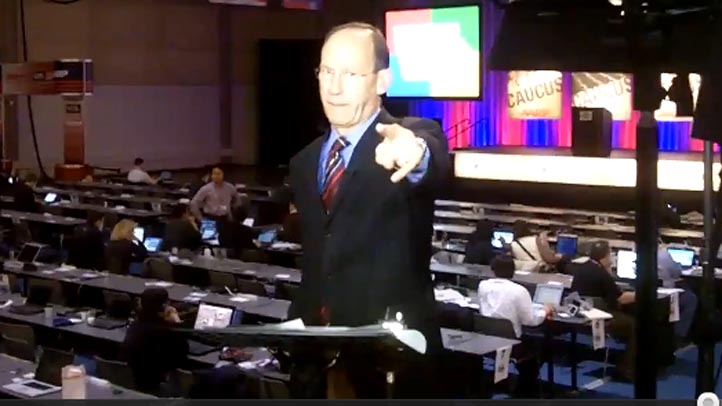 Every four years, it has been the same (at least since 1996 when I first covered the Iowa caucuses). There's lots of talk about the first-in-the-nation vote. This time there was no snow to accompany the cold, which for television is too bad. It makes for a prettier picture.
A few other observations:
It may be telling that the only candidate with true enthusiasm on the campaign trail has no illusions of actually becoming president. Ron Paul, when asked by Terry Moran of ABC News if he goes to sleep at night thinking he could be in the White House, responded "not really." In fact, it appears that the Paul campaign is about two things, neither one being the candidate. Paul wants his libertarian ideas advanced, talked about and debated. He is also setting up his US Senator son Rand to carry on the family's White House hopes. My guess is that volunteers, financial backers and a host of other Iowa activists are now part of the Paul family Rolodex for use down the road.
Mitt Romney may have won but this was his second campaign in this state and it appears a lot of people simply don't like him.
For the Republican side, 122,000 people showed up to vote this year, setting a new record. Remember though, that the Democratic Party caucuses in 2008 had about double that number. Since Iowa is considered a swing state, the GOP by rights should have about equal participation. The fact they don't is troubling the GOP.
Iowa is flat and frankly that sort of makes it boring. If I could wish it something, I'd give it a mountain.
People are nice but are getting a little nervous about all the "why do THEY get to vote first" talk. They have a good reason. The charm of the caucus vote in such a small state is that everybody gets to meet the candidates personally and "kick the tires."
This election however had more TV advertising than ever and as a result, it is starting to look like a lot of other campaigns (including ours). The days when Jimmy Carter spent so much time here, he was in the phone book are over. Mitt Romney won with millions in TV advertising (as well as millions more from a pro-Romney independent group). All total, he spent about two weeks in the state.
Newt Gingrich looks like he doesn't care for campaigning. Very professorial. He appears to be amused by reporters. Still, Gingrich is happy to take questions after events -- as opposed to say, Congressman Paul. Paul makes a policy of never giving press conferences (staffers say he is uncomfortable with the shouting and jostling that are part of the media scrum).
But while we say goodbye to the Hawkeye state, we may not have seen our last interesting caucus of the primary campaign. Iowa really decided very little (other than they don't care for Michele Bachmann, a native daughter). That means this nastier-by-the-day campaign will continue through this month, and maybe beyond.
The Nevada caucus is Feb. 4.
Let us know what you think. Comment below, send us your thoughts via Twitter @PropZero or add your comment to our Facebook page.