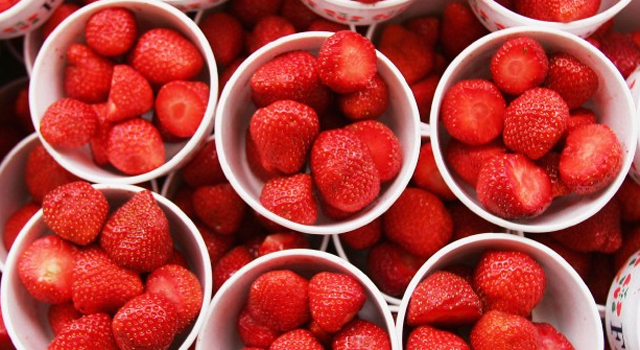 A LUSCIOUS RAIN OF STRAWBERRIES... sounds a little like an offbeat new spa treatment, the sort of experience that puts an adventurous type underneath a bucket of freshly washed fruit. But it can also be said for what's ahead in the Golden State come May, for that's the month when the beloved berry finds itself as the focal point for several juicy festivals. And while strawberries won't actually shower down upon you — unless a particular festival organizer has a quirky plan in mind — you will feel the strawberryful bounty in several towns, including...
OXNARD: That's where the biggie takes place each year, a two-day party that carries a hefty title: the California Strawberry Festival. And when you've got a state shout-out in your name, bet you'll have a line-up of carnival rides, recipe-oriented contests, amusing and messy diversions like tart tosses and pie eating showdowns, and a whole array of strawberry-yummy dishes to try. The 2018 dates are May 19 and 20, and if you go, over both days, even, and you still haven't had your fill of shortcake, and ice cream, and strawberry-laden salads, turn your eyes south, then north, for the...
GARDEN GROVE STRAWBERRY FESTIVAL, which celebrates its big 60th anniversary from May 25 through 28, and the Arroyo Grande Strawberry Festival on May 26 and 27, and the 78th Happy Valley Strawberry Festival in Anderson, also on May 26 and 27. All of the festivals include interesting diversions beyond the important pastime of berry consumption, but some are a bit larger than others, with different events going on, so study up before taking to the road your strawberrymobile. Surely you have a car painted the color of a strawberry? The very car that you use to visit all of our state's big Maytime strawberry bashes? Get it shined up, for it'll be putting in the miles, and smiles, near the end of May 2018.
Copyright FREEL - NBC Local Media