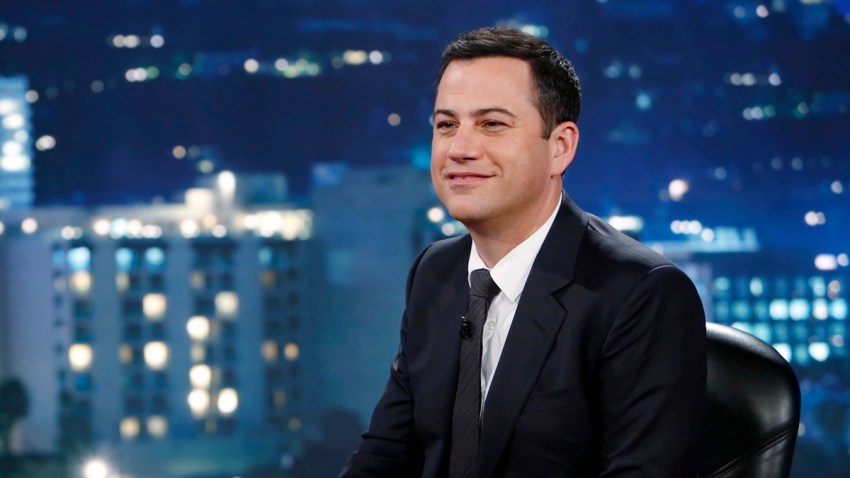 So...Kanye West is actually pretty mad, eh?
During his monologue Thursday, Jimmy Kimmel addressed the rapper's profanity-studded Twitter rant from earlier today in which he went off on the late-night host in response to a bit from Jimmy Kimmel Live that poked fun at Kanye's much-talked-about interview with BBC Radio One.
"Quick question," Jimmy kicked off the show. "Did anyone else get a very angry phone call from Kanye West about an hour and a half ago? Just me? OK, I didn't know if he was mad at all of us."
PHOTOS: Will this feud rank among the year's finest? Check out the best of 2012
Picking up the subject again about 15 minutes later, he described the pre-rant call he got from Kanye.
"He told me I had two choices: apologize publicly...and that was really the only choice!" Jimmy said. "The other choice he gave was that my life--'Your life,' he said, 'is going to be much better if you apologize.' Then he started tweeting today and I don't even know if I've seen some of these tweets, because they're happening as we speak..."
Then Jimmy started going through Kanye's tweets (which were all in caps), starting with the one that got the ball rolling: "Jimmy Kimmel is out of line to try and spoof in any way the first piece of honest media in years."
He continued to parse the tweets, including the one that inquired whether Jimmy would like it if Kanye did a spoof about "your face or you f--king Ben Affleck."
PHOTOS: These are nicer: Remember Kim's top Kanye tweets?
"Which, by the way, was a spoof," Jimmy reminded everyone. "I don't know if he thought that was news." Noting the use of the hash tags "#nodisrespecttobenaffleck" and "#alldisrespectfojimmy kimmel," he cracked, "A lot of hash in those tags."
"And he told me this on the phone, I swear," the veteran funnyman continued, "he said, 'I am the most powerful voice in media. I am 'Pac! He said 'I am 'Pac' a few times to me. He said, 'You'll never be able to show your face at a 14-year-old's high school football game and be cool again.'
"He really is 'Pac," Jimmy said, smiling but looking a bit baffled. "That's right out of the Tupac playbook, isn't it?"
"I don't understand it, I don't know why he's angry again," Jimmy continued. "I thought the bit was pretty innocuous. Finally I'm in a rap feud."
"Do you have my back?" he asked side-kick Guillermo, who promised, while munching on a snack, to watch his boss' back.
"Right now we're at Def-Kanye Five," Jimmy concluded. "Thanks, Kanye, appreciate it."
He promised to keep us posted and all remains quiet on the Twitter front for now.
PHOTOS: Top 25 Hollywood power couples
Copyright E! Online