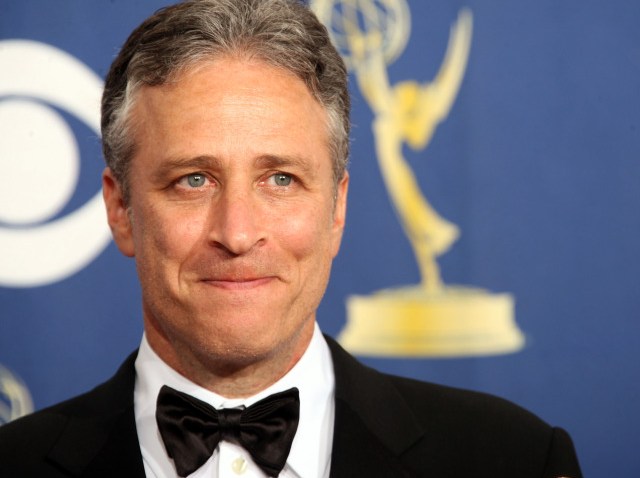 The best material some comedians could muster when Barack Obama took office last January were quips about how they'll have a tough time making a living without presidential punchline George W. Bush to mock anymore.

A year later, "Daily Show" host Jon Stewart's recent skewering of the President is being seen by some – including a gleeful Bill O'Reilly – as a sign the comic rotisserie is turning.

In an interview Wednesday night on Fox News' "The O'Reilly Factor," O'Reilly bluntly asked Stewart about the perception that the comic is getting tougher on Obama: "When you deliver your stuff, are you cognizant of the fact that your audience are primarily stoned slackers who love Obama and when you criticize Obama you may be turning on them?"
Stewart responded, "We don't think about who may be receiving it, we think about how it feels to us....If it feels like a valid piece of absurdity to us, we vet things internally.
"Whatever you say, someone's not going to like (it)."

The serio-comic exchange was prompted by a much-discussed column by Washington Post media critic Howard Kurtz, who anointed Stewart a "pop-culture bellwether." Kurtz cited the comedian's lampooning of the President last week for using a teleprompter during a Virginia school visit as a turning point of sorts in humor aimed at Obama.

"You set up the presidential podium and a teleprompter in a sixth grade classroom?" Stewart asked incredulously, going on to heckle Obama for what seemed like an almost Reaganesque move – and not Reaganesque in the "Great Communicator" sense.

Kurtz noted, "Stewart's barbs are generating partisan buzz."

Stewart sarcastically downplayed the impact of his comedy – even referring to himself in the third person, almost as if to distance himself from the talk.

"Oh my God! [The Obama Administration has] lost Jon Stewart! And as Stewart goes, so goes an incredibly small, yet for some reason demographically valuable segment of our population," Stewart said on his show, responding to the Kurtz column.

"You know how President Bush suffered when he lost Jon Stewart. I mean, that guy was run out of office after only eight years."

While the teleprompter bit has attracted notice, Stewart, to be fair, first hit Obama hard in July, memorably mocking the so-called White House "beer summit."

Stewart has battled perceptions that he's in the tank for liberals, with his frequent pointed takes on Fox News' rhetorical excesses, distortions and omissions. But he's an equal-opportunity parodist, often ridiculing news clips from the network news, CNN and particularly MSNBC – going off last week on Keith Olbermann after the cable news host unleashed a verbal attack on recently elected Massachusetts GOP Sen. Scott Brown.

Perhaps Stewart's show is scrutinized by pols and the press because he and his Comedy Central buddy Stephen Colbert are delivering the most consistently biting daily dose of TV political barbs since Johnny Carson made his final quip about the first President Bush in 1992.

Sure, the other late night show hosts make fun of Obama, but most of the gibes are delivered in forget-'em-a-minute-later one-liners.

Bill Maher was among the first high-profile comics to slam Obama, angrily declaring in June, "This isn't what I voted for." But Maher's HBO show airs once a week when it's running, and is closer at times to a cable news opinion show than straight-out comedy. "Saturday Night Live" tweaks the President in "Weekend Update" segments and in skits, but that's one night a week.

Colbert delivers his brand of clever humor through his conservative talk show character. Stewart speaks for himself, making him stand out as TV's most visible and direct day-in-day-out political satirist.

Stewart may believe he's just another comedian, but he plays a key role in setting the comic zeitgeist. That's something he might want to think about during his next moment of Zen, which, presumably, won't come in a no spin zone.
Hester is founding director of the award-winning, multi-media NYCity News Service at the City University of New York Graduate School of Journalism. He is the former City Editor of the New York Daily News, where he started as a reporter in 1992. Follow him on Twitter.
Copyright FREEL - NBC Local Media