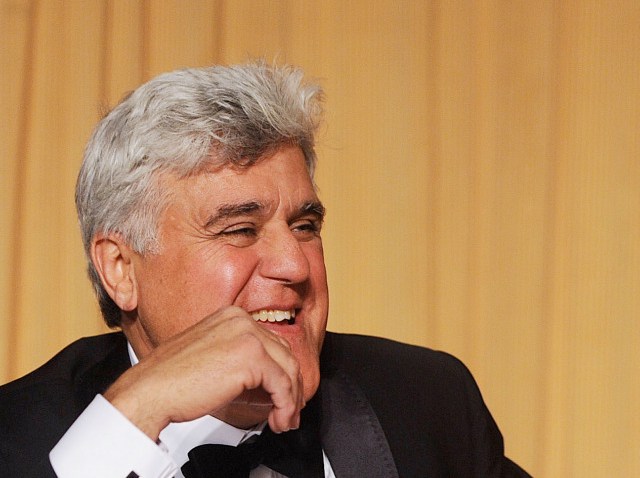 You know you're having a bad birthday week when the highlight is a half-naked Terry Bradshaw jumping out of your cake.

Jay Leno turned 60 Wednesday, back at the only job he ever wanted, as host of "The Tonight Show," and once again king of the late-night ratings, even if his average audience member is old enough to remember when Bradshaw was king of the quarterbacks.

But for Leno, the birthday week proved anything but triumphant: Conan O'Brien, David Letterman and even President Obama hurled barbs at him. Leno also stumbled a bit at his greatest strength – standup comedy – mounting a lackluster performance at the White House Correspondents' Association dinner, earning him a tepid reception.

"This is a tough room," he said toward the end of the 20-minute Saturday night appearance.

It was a tough week for Leno, whose nice-guy image took a big hit during the "Tonight Show" tug-of-war that ended with him wrestling away the job from the critical favorite for the second time in two decades. But with Leno, criticism from the media and his peers doesn't seem to have much impact – he's become the Teflon Comic.

O'Brien, finally free to speak out about the struggle that bounced him from NBC's "The Tonight Show," headed to CBS' "60 Minutes" to air his grievances Sunday, and all but said he doesn't know how Leno lives with himself.

"If I had surrendered 'The Tonight Show' and handed it over to somebody publicly and wished them well — and then…six months later. But that's me, you know. Everyone's got their own, you know, way of doing things," he said, later adding, "I sleep well at night."

Letterman, meanwhile, basically went a weeklong offensive against Leno, his one-time friend from their 1970s standup days, taking aim at Leno's recent comments that he and O'Brien both got "screwed."

"Now wait a minute, Jay," Letterman said last Monday as he interviewed Dr. Phil McGraw, after trotting out a squeaky-voiced Leno imitation. "You both got screwed, yet you're the only one who ended up with a show. How did you get screwed exactly?"

"Everybody loved Jay because he's so funny, he's so engaging, so compelling, you can't not love him," Letterman added. "But then there's also this other side of him, and I think he'd own up to it, that he's just a complete boob. He can't help himself."

Letterman, in a rare venture outside the safe confines of The Ed Sullivan Theater, similarly revisited the O'Brien-Leno struggle during a Friday appearance on "Live! With Regis and Kelly," this time bizarrely calling Leno "a bit of a knockwurst — you know what I mean?"

Back on his show Wednesday, Letterman, who recently turned 63, offered Leno a pointed birthday greeting: "Jay Leno is 60 years old today, and I heard very unhappy... You know why? He wants Conan's birthday."

Leno's probably come to expect that from Letterman. But he probably didn't expect to be outshone at the Correspondents' Association dinner by the President, who had better material.

"I am glad that the only person whose ratings fell more than mine last year is here tonight – great to see you Jay!" Obama quipped. "I'm also glad that I'm speaking first, because we all see what happens when somebody takes the time slot after Leno's."

Leno's routine was surprisingly tame, getting big laughs only when he tore off a couple of great zingers about the GOP strip club scandal ("Republicans in a lesbian bondage club. Republicans don't want lesbians marrying, but they do like to watch them tie the knot").

Leno's been around long enough to remember to never let them see you sweat, which might be the key to his career, at least in this final stage where he perhaps is better known for the Late Night Wars than for the comic timing that made him a star. He's also smart enough to rarely let bitterness creep into his humor – he'll leave that to other the guys, and act like everything's okay.

Leno did as much at the end of his routine Saturday night, saying he was honored to be performing for the Obamas and calling the gig "the greatest job I've ever had."

You almost believed him – or at least believed he believed what he was saying. That's the key to being the Teflon Comic: stick to the shtick and nothing will stick.

Hester is founding director of the award-winning, multi-media NY City News Service at the City University of New York Graduate School of Journalism. He is the former City Editor of the New York Daily News, where he started as a reporter in 1992. Follow him on Twitter.
Copyright FREEL - NBC Local Media