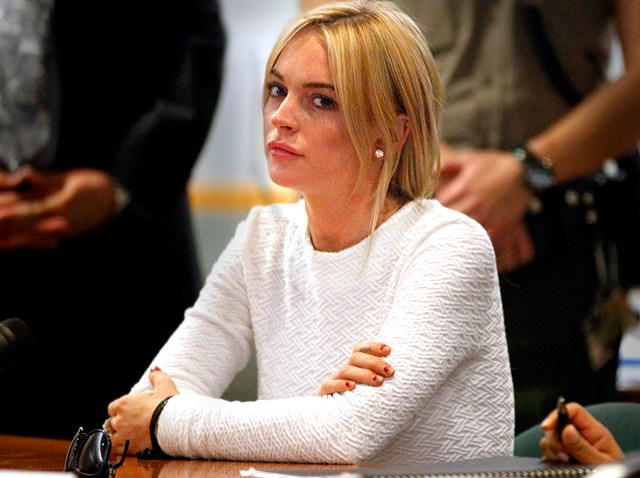 Lindsay Lohan pleaded not guilty Wednesday to a felony count of grand theft involving a $2,500 necklace that was allegedly taken from a jewelry store in Venice.
The 24-year-old actress was arraigned Wednesday afternoon at the Airport Branch Courthouse in Los Angeles.
Saying it appeared Lohan had violated her probation in a 2007 drunken driving case, Superior Court Judge Keith Schwartz set bail at $40,000 and warned that if she was accused of breaking the law while free, he would have her held without bail.
Lohan, 24, posted bail and was released about an hour after the hearing. She spoke little during the arraignment, except to acknowledge her name and that she understood the charge and possible consequences.
Lohan was ordered to return to court Feb. 23.
The judge had strong words for Lohan, who arrived at the courthouse at about 1 p.m. for the scheduled 1:30 p.m. PT arraignment.
"Let me tell you a couple of things so we have no misunderstandings," Schwartz said. "I'm going to say it in the polite version. You're in a different situation now that a felony has been filed against you.
"While this case is percolating, if you violate the law I will remand you and set no bail. Your attorney won't be as successful as this time. You need to follow the laws just like everybody else. Look around this room -- everybody has to follow the law. You're no different than anybody else. Don't push your luck."
When he asked Lohan whether she understood, she replied, "Yes."
If convicted of the theft charge, the troubled "Mean Girls" star could face up to three years in state prison. The judge also said it appears she violated her probation stemming from a 2007 DUI case.
The "one-of-a-kind" necklace was reported missing from high-end jewelry boutique Kamofie & Company in Venice. The store is said to have surveillance video of Lohan wearing the necklace; photos taken by the paparazzi a few days later appear to show Lohan wearing the same necklace.
Lohan's lawyer, Shawn Chapman Holley, said Saturday the sticky finger claims are untrue.
"We vehemently deny these allegations and, if charges are filed, we will fight them in court, not the press," she told People.
The actress claims that necklace was on loan to her from the store, and she had given it to her stylist to return, according to reports. As cops were putting together a search warrant, a Lohan associate returned the necklace to authorities, sources told the LA Times.
As for the Venice jewelry shop owners, they told TMZ.com they feel bad now that Lohan faces possible jail time. The website reported that owner Geoff Kaman and his wife said they "are extremely sad on how all of this has turned out."
The felony charge is the latest in a string of legal woes for Lohan, who is serving probation in connection with her 2007 DUI case.
Riverside County lawyers are weighing whether to prosecute Lohan for allegedly getting into a fight with an ex-employee of the Betty Ford Center during her recent, three-month stint in rehab.
Lohan's DUI judge has threatened jail time for any violations of her probation.
Copyright CNS - City News Service