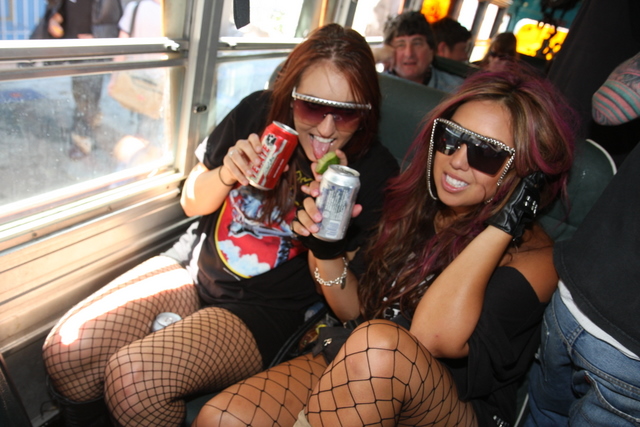 Lilly Wachowski has come out as a transgender woman.
The 48-year-old filmmaker formerly known as Andy Wachowski penned a lengthy statement in the Windy City Times after tabloid reporters threatened to disclose her transgender identity.
"I'm transgender, and yeah, I've transitioned. I'm out to my friends and family. Most people at work know too. Everyone is cool with it. Yes, thanks to my fabulous sister [Lana Wachowski] they've done it before, but also because they're fantastic people. Without the love and support of my wife and friends and family I would not be where I am today."
Wachowski's sister, Lana, first appeared publicly as a woman in July 2012.
"The 'news' has almost come out a couple of times," Lilly said in the statement. "Each was preceded by an ominous email from my agent – reporters have been asking for statements regarding the 'Andy Wachowski gender transition' story they were about to publish...My sister Lana and I have largely avoided the press.
"I find talking about my art frustratingly tedious and talking about myself a wholly mortifying experience. I knew at some point I would have to come out publicly. You know, when you're living as an out transgender person it's...kind of difficult to hide. I just wanted–needed some time to get my head right, to feel comfortable. But apparently I don't get to decide this."
"The Matrix" director added, "To be transgender is something largely understood...So I will continue to be an optimist adding my shoulder to the Sisyphean struggle of progress and in my very being, be an example of the potentiality of another world."
Nick Adams, GLAAD's Director of Programs for Transgender Media, released the following statement following Lilly's essay:
"GLAAD is thrilled that Lilly Wachowski is able to be her true and authentic self today, however, she should not have been forced to disclose her transgender identity before she was ready to do so. Journalists must learn that it is unacceptable to out a transgender person, in the same way it is unacceptable to out a person who is gay, lesbian, or bisexual."
The Wachowskis' Netflix series "Sense8" is in production for its second season.
Copyright E! Online