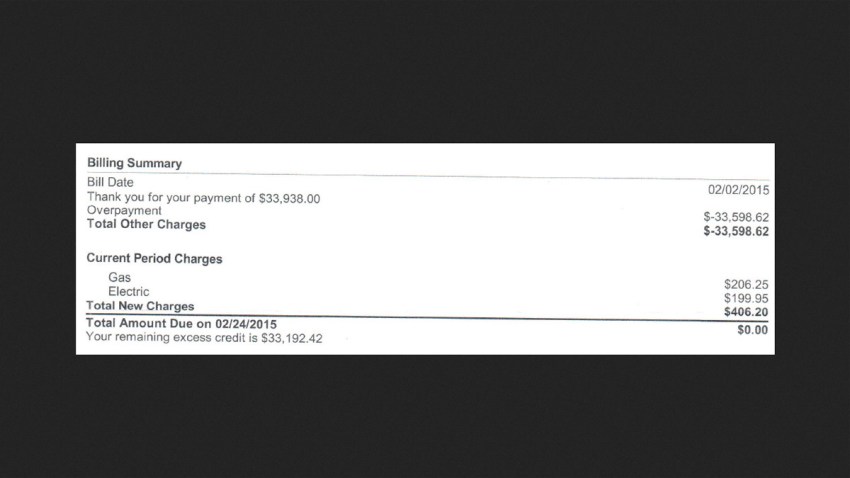 A Pennsylvania man says a typo led to a $33,000 overcharge on his electric bill with the Philadelphia-based company, PECO. Now he's speaking out, claiming PECO took too long to respond to him and refund him for an obvious mistake.

Steve Onufrey, 71, of Warminster, Pennsylvania, told NBC10 the ordeal began when his wife made a typo while sending an electronic bill payment to PECO in January.

"My wife did not enter in a decimal point on a bill for $339.38 and the payment went through as $33,938," Onufrey said.

Fortunately for Onufrey, he just happened to have enough money in his account for the huge payment to go through.

"That money happened to be in the account due to the settlement on my father's house in Northeast Philadelphia after he died last year," he said. "The money was waiting to get taxes calculated on it prior to putting the rest in an interest bearing account."

Onufrey reached out to PECO as well as his bank Wells Fargo. Onufrey claims reporting the overchage to PECO was a long and frustrating process.

"I was on the phone literally every day this week with agents, supervisors and managers," he said. "All who said they would call me back that same day – no one ever did call me back."

Onufrey says he was finally told Friday by a PECO manager that a refund check would be mailed to him on Feb. 19, which would meet the company's 30 day standard wait time for refunds.

"Nothing was done to get this to me any earlier," Onufrey said. "$33,000 and it is treated like a $33 overpayment."

Onufrey admits he's fortunate to have actually had the money in his account but wanted to speak out for other customers in a similar situation who weren't so lucky.

"If this happened to me, I am sure this type of mistake has happened to others and will happen again," Onufrey said. "I feel for others who are less fortunate than me financially and need a refund due to a simple mistake and a request for a legitimate refund is denied which may have a financial snowball effect that will be of harm to them."
PECO spokesman Ben Armstrong tells NBC10 a paper check will be mailed to Onufrey this week. He said the 30 day wait period is standard practice to ensure the payment actually went through. The company needs to verify the payment is valid with the customer's bank.
Armstrong said it also protects the utility from becoming victim to a scammer.