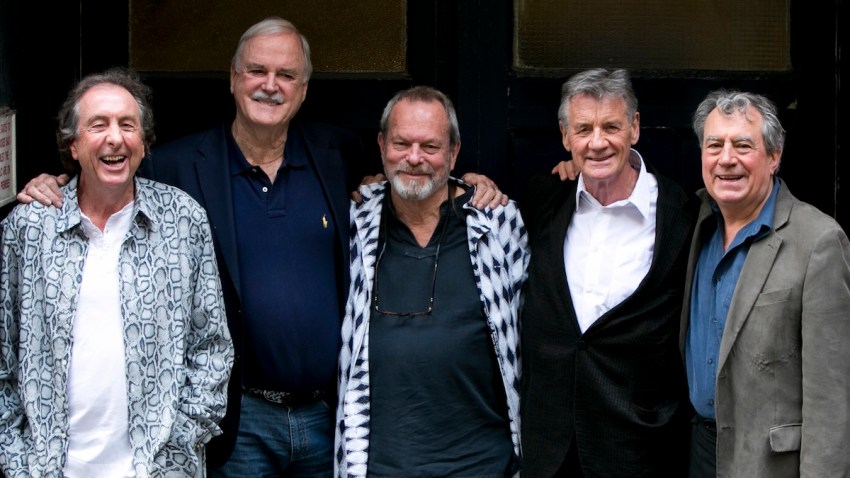 George Harrison famously anointed Monty Python the spiritual successors to the Beatles, a sentiment that placed completely different, yet oddly fitting bookends, on the 1960s British Invasion.
But Python's apparent final goodbye, set for Sunday, is ripped out of the Led Zeppelin playbook. Like Zeppelin's 2007 farewell reunion show, Python's final hurrah is limited to London's 02 Arena, with seemingly zero chance for a tour. And for both acts, the song remains the same: one last blast of greatest hits, with some tinkering, but no huge surprises.
Unlike Zeppelin, though, fans outside of the lucky ticket holders won't have to wait five years to see the finale: The comedy crew's closing performance hits movie theaters around the world Sunday, offering a last live glimpse of the bright side of Python.
U.S. & World
NEWS New Captain America Will Be African-American
Reviews of the farewell run, which began July 1, have proved mixed, with some critics citing a lack of new material. But the naysayers sound like those who actually expect to find cheese at a cheese shop.
To fans, there's little doubt the sold-out 10-show string, some 40 years after the troupe's last TV episode and more than 30 years after their final original movie, marks the holy grail of comedy comebacks. Arguing that point is as pointless as, well, paying for an argument.
At an age when just walking carries risk of looking silly, the five surviving Pythons are going out laughing at the critics ­– as well as life (so absurd) and death (the final word). Even the show's title – "Monty Python Live (mostly)," with the subtitle "One Down, Five to Go" – offers a nod to the late Graham Chapman and the characteristic irreverence the bunch unleashed, via the BBC, 45 years ago this October.
NEWS Marcel Is Making Thor a Woman
The Python brand of humor is timeless – their sense of the absurd consistently attracts new generations of fans – and ageless: John Cleese, Terry Gilliam, Eric Idle, Terry Jones and Michael Palin, who range from 71 to 74, are more appropriately ripened to play screeching working-class old ladies and uptight establishment types than when they were in their twenties all those years ago.
Take "The Four Yorkshiremen" sketch, in which pompous old men one-up each another with escalating over-the-top tales of their rise to the top ("I had to get up in the morning at ten o'clock at night, half an hour before I went to bed, drink a cup of sulfuric acid, work 29 hours a day down mill, and pay mill owner for permission to come to work, and when we got home, our dad and our mother would kill us, and dance about on our graves singing 'Hallelujah.'").
Hallelujah to Monty Python for reuniting one (presumably) last time to prove that while the parrot still may be dead, the comedy lives forever. The meaning of life, hopefully, includes getting the occasional laugh – and the last laugh (even if that laugh comes from a treasured old joke). As fans prepare to don their Mr. Gumby handkerchiefs and descend on movie houses all over, check out a preview:
Jere Hester is founding director of the award-winning, multi-media NYCity News Service at the City University of New York Graduate School of Journalism. He is also the author of "Raising a Beatle Baby: How John, Paul, George and Ringo Helped us Come Together as a Family." Follow him on Twitter.
Copyright FREEL - NBC Local Media