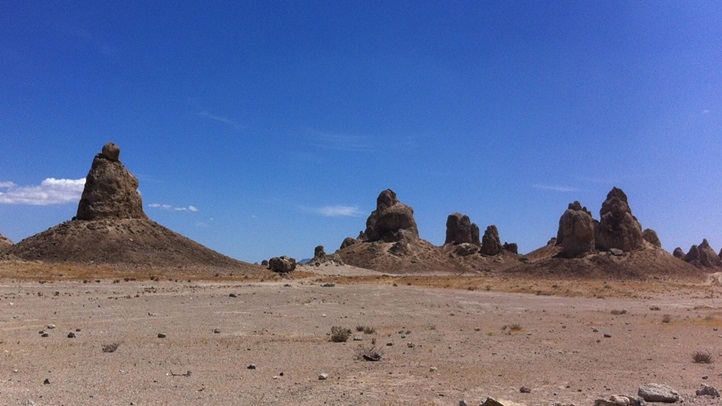 TERRIFIC TUFA: When we think of the natural substances and materials associated with the Golden State, we might ponder redwood burls and ocean foam and the chalky-hued borax around Death Valley and the ice found at the tippy-top of Mount Shasta. But let us also give tufa its due, that dramatic, clumpy substance that forms the memorable towers of memorable Mono Lake. They're calcium-carbonate wonders that have built up over time and the "interaction of freshwater springs and alkaline lake water," per the Mono Lake Tufa State Natural Reserve. The ancient story of tufa is exciting science, for sure, and worth getting to know, and everyone in the know knows that California tufa exists beyond Mono Lake.
"STAR TREK" SETTING: While the Eastern Sierra body of water is synonymous with the fantastical stuff, there is a spot lower on the map, near Ridgecrest and southwest-ish of Death Valley National Park, where tufa has also made a stand. Nope, there's no lake at the Trona Pinnacles nowadays, nor has there been for a long, long time, but there is a landscape from another dimension, or a far-off galaxy, if you prefer. It's one of the Golden State's most galactic sites, a free-to-visit highly remote spot that's been seen in a "Star Trek" movie and other cinematic works requiring a distant heavenly body (but lacking the budget to film on Mars).
TRONA PINNACLES: The good news is you don't need a rocket to reach this mysterious desert gem, which is located about thirty minutes east of the city of Ridgecrest. You do, however, need a dependable vehicle that can handle a dirt road which can be a little rut-deep in places, depending on recent rains. You're on the dirt road for five miles once you leave asphalt, with the National Natural Landmark ahead of you, in the growing-closer distance, the whole time. Making the experience even more storybook? The 500-plus tufa towers look a bit like giants, frozen in place, in some Tolkien tale, but you're free to describe them in other ways to your friends, who will also be agog.
TIPS: There's no visitor center, and you and your party may be the only ones out in the truly windswept setting, and cell service is for naught, so prepare for an interplanetary remoteness we modern city dwellers aren't all that acquainted with, at least nowadays. But if you want to feel like Kirk and Spock in "Star Trek V: The Final Frontier," or just someone eager to road trip deeper into the nooks and natural wonders of California, the Trona Pinnacles could be for you. You don't even have to go on Tufa Tuesday -- that's a geology joke, of course -- to appreciate the etherealness of the setting. And if you're a true tufa completest? You'll build your weekend road trip around both Mono Lake and the Trona Pinnacles, which sit about four hours apart, by car.
AS FOR GETTING IN... and out and making the most of your safe and happy adventure? Best heed the suggestions of the Bureau of Land Management, which oversees the Trona Pinnacles, before setting off for outer space -- er, the desert.
Copyright FREEL - NBC Local Media