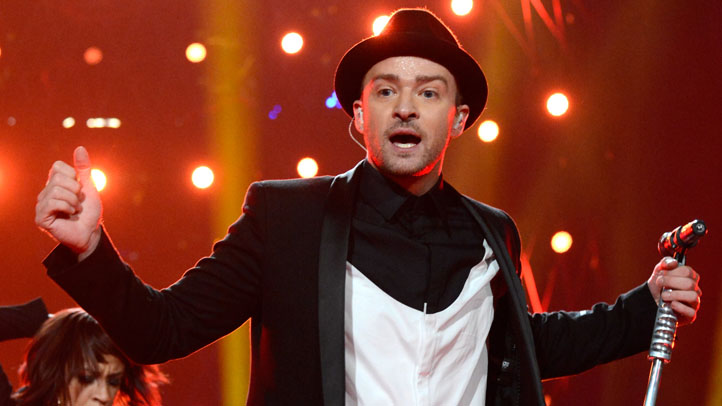 Lady Gaga executed four costume changes during her act at the MTV Video Music Awards Sunday. Miley Cyrus played provocateur. The ovations went to Justin Timberlake.
In her first live performance since a recent hip surgery, Gaga opened the proceedings by morphing through her various incarnations. White, monastic garb gave way to a black, jeweled bodysuit. Next a 1980s era power suit was discarded to reveal a bikini constructed of seashells.
Gaga, however, couldn't hold a candle to crowd favorite Justin Timberlake who delivered a lengthy mash-up set of his past and current hits, reunited with 'NSync, and ultimately took home the night's biggest prize: Video of the Year, for his single, "Mirrors."
Beginning at the entrance of Brooklyn's Barclays Center, Timberlake's performance took his backup dancers and the audience on a tour of the VMA venue and a journey through his career song book. It was the night's stand-out act.
Dressed in a black suit and black hat, Timberlake grooved and crooned through a series of solo hits ("SexyBack," "Cry Me A River," "Senorita") before the remaining members of 'NSync — JC Chasez, Chris Kirkpatrick, Joey Fatone, and Lance Bass — joined him on stage to belt out their smash of 2000, "Bye Bye Bye." Timberlake stepped back into the solo spotlight to accept the Michael Jackson Video Vanguard Award for career excellence.
"I don't deserve the award, but I'm not going to give it back," Timberlake said clutching the trophy. "I'm taking this home."
"Half of the moonmen I've ever won, I won with those four guys right there," Timberlake, who now has 18 VMAs under his belt, said as he gestured to his former band mates. "So above all else, I'm going to share this — we can keep it my house — but I'm going to share this award with them."
One Direction, the hottest boy band of current times, handed Selena Gomez the Best Pop Video award for her song, "Come and Get It." The four British lads later took home their own Moonman for "Best Song Ever," which won the Song of the Summer category.
Miley Cyrus was all provocative tongue and twerking when she hit the stage to perform "We Can't Stop." Cyrus and her teddy bear-laden backup dancers were joined by Robin Thicke for a bump-and-grind crossover of her song and his summer anthem, "Blurred Lines." The raunchy pair were joined by 2 Chainz and Kendrick Lamar to end the set with "Give It 2 U."
Overall, Timberlake tied with Macklemore for most wins with both artists taking home three statuettes each. Timberlake's Video Vanguard trophy - announced ahead of the telecast - pushed him to the top of the leader board.
Taking a break from the gyrations and bare flesh on display, Macklemore & Ryan Lewis raised the social consciousness when they accepted the Best Video with a Social Message award for their marriage-equality anthem "Same Love."
"Ive been writing songs since I was 15 years old and to me this is the most important record out of all of them," said Macklemore (real name Ben Haggerty). "To watch this song in the last year spread across the world is a testament to what is happening right now in America on the forefront of equality. Gay rights are human rights, there is no separation."
Jason Collins, the first openly gay NBA player, later introduced the rapper/singer for a live performance of "Same Love" featuring Ryan Lewis, Jennifer Hudson and Mary Lambert.
Other winners included 30 Seconds to Mars, who took Best Rock Video for "Up in the Air." Bruno Mars was awarded Best Choreography for "Treasure" as well as Best Male Video for "Locked Out of Heaven." Best Female Video went to Taylor Swift for "I Knew You Were Trouble."
Swift was already a topic of conversation on Twitter earlier in the evening for appearing to utter an expletive when rumored former love interest Harry Styles of One Direction appeared. Swift continued to keep the Twitterverse occupied when she thanked a former beau for her win.
"I also want to thank the person who inspired this song, who knows exactly who he is, because I got one of these," Swift said. "Thank you so much!"
Proud new papa Kanye West made his seventh VMA stint, tying him with Madonna for the most live performances in the show's history. He delivered a restrained version of "BL--- S---N HEAD" off of his latest album "Yeezus."

Drake, 2 Chainz, Bruno Mars and Katy Perry also delivered strong performances with Perry belting out her new single "Roar" from a boxing ring specially constructed under the Brooklyn Bridge for the show's finale.
For this year only, Timberlake and his fellow VMA winners took home a redesigned Moonman, created specially to commemorate the event's first time at the Brooklyn venue.
In place of the regular shiny astronaut (based on the image of helmeted astronaut Buzz Aldrin planting the flag on the lunar landscape), the updated version was a figure that took design cues from Companion, the big-eared, X-eyed creature designed by the Brooklyn artist KAWS.