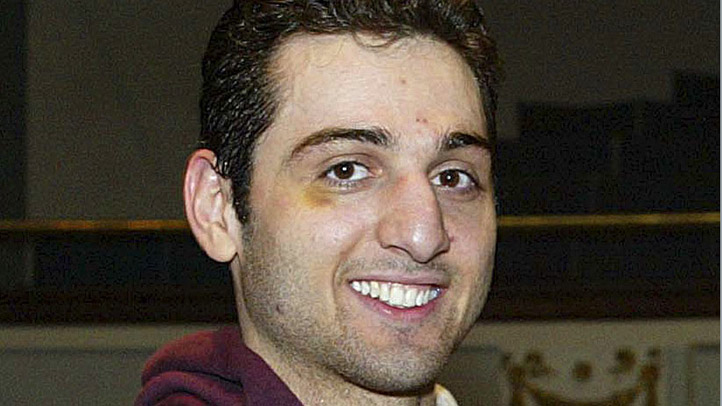 The dead Boston Marathon bombing suspect showed up in at least one low-level U.S. intelligence database two years ago, federal officials told NBC News, and the government was informed when he flew to Russia last year for a six-month stint.

No action was taken against Tamerlan Tsarnaev, who was killed last week in a shootout with police, however. The FBI had already interviewed him at Russia's request, and it had found no ties to terrorism, the officials said.
Those new details about the close eye the U.S. government was keeping on the older of the two ethnic Chechen brothers accused in the deadly bombing come just as federal investigators question his younger brother, Dzhokhar, 19, in his Boston hospital room, where he was charged Monday with terrorist crimes.
With the revelation of intelligence agencies' awareness of Tsarnaev came calls Wednesday from Republican Sens. John McCain and Kelly Ayotte for congressional hearings to probe whether officials could have prevented the Boston Marathon attacks.
For full coverage, visit NBCNews.com.

Intelligence agencies were first alerted to the elder Tsarnaev brother in 2011, when Russia said it had reason to believe he was becoming a radical. Russia asked the U.S. for information about him twice that year — once early in the year from the FBI and then also in September from the CIA, according to the officials.

In response, the FBI opened a threat assessment, its lowest-level investigative step, which put Tsarnaev in a low-level intelligence database called the Treasury Enforcement Communications System, the officials said. The FBI turned up no information on Tsarnaev to give Russia, but it asked twice that year for further information from Russia, requests Russia never responded to, they added.

The head of the House Homeland Security Committee, Texas Rep. Michael McCaul, said Wednesday that Tsarnaev had also turned up on another terror database, the Terrorist Identities Datamart Environment — a list of almost a half-million names.

That massive database, the Associated Press reported, is managed by the National Counterterrorism Center and feeds into terror watch lists like the one that bans known or suspected terrorists from getting on airplanes. It does not itself prevent those listed on it from traveling, however, according to NBC News.

Counterterrorism officials were alerted automatically to Tsarnaev's trip to Russia in January 2012, however, when their system "pinged." Because the FBI had already interviewed him and his family and investigated him further, though, no action was taken, officials told NBC News.
Tamerlan's younger brother and fellow accused bomber Dzhokhar has told investigators that they were motivated by Islamic religious fervor and bombed the Boston Marathon in response to the U.S. wars in Iraq and Afghanistan, according to NBC News.
He said that the two acted alone, using bomb recipes they found online, and had no links to terrorist groups.
But the new disclosures about what the U.S. government knew of his older brother come as federal investigators try to piece together whether Tsarnaev, who had a U.S. green card, may have become radicalized during his six-month trip to Russia.

Those disclosures are also significant because officials have said the U.S. intelligence community had no information leading up to the April 15 bombings that killed three people and injured more than 260 others.

That the name of one of the alleged bombers was in a terrorism database for two years months before the attack was expected to drive congressional inquiries about whether the U.S. government adequately investigated tips from Russia that Tsarnaev posed a security threat.
Such inquiries could begin Thursday, when officials from the FBI and the Department of Homeland Security will appear at a regularly scheduled hearing before the Senate Homeland Security Committee.
Sens. McCain and Ayotte wrote the committee chairman, Sen. Thomas Carper, a letter Thursday asking him to investigate whether government agencies properly shared information — and if they didn't, whether properly sharing it could have alerted authorities to danger posed by Tamerlan Tsarnaev.

"We are requesting that the Homeland Security and Governmental Affairs Committee hold a hearing as soon as possible to investigate whether our intelligence officials had information that could have prevented these attacks," they wrote.

The Democratic ranking member on the House Intelligence Committee, Rep. Dutch Ruppersberger, also pressed for answers on Tsarnaev's associations during his six months in Russia.

"I think it's important that we continue to do more in Russia, to find out when the older brother went to Russia, who did he contact? Was he radicalized there? We need more information from that," he said.
Copyright AP - Associated Press