The role of Sean Kratz, the alleged accomplice in three of four slayings that took place at a Bucks County farm in early July, was painted by his attorneys Thursday at an initial hearing as that of surprised bystander to a "massacre."
That's the word he used in describing the shootings, allegedly perpetrated by his cousin Cosmo DiNardo, to detectives in the days after the murders that took place July 5 and July 7 on the DiNardo family estate in Solebury.
DiNardo also had a preliminary hearing Thursday, except he appeared via closed-circuit video from Bucks County Jail.
Both men are being held without bail for the alleged drug deals-turned-murders of Dean Finocchiaro, 19, of Middletown Township; Mark Sturgis, 22, of Pennsburg, Montgomery County; Tom Meo, 21, of Plumstead Township; and Jimi Taro Patrick, 19, of Newtown Township.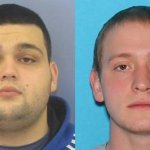 Kratz, 20, walked with a limp in and out of the courtroom in Doylestown and his lawyers said he suffered serious injuries in an unrelated shooting in Northeast Philadelphia a few months prior to the Bucks County murders.
"Philadelphia police are investigating a shooting in March, which apparently he was shot 19 times," one of his attorneys, Neils Eriksen said following the hearing.
Eriksen, who along with another attorney Craig Penglasse took over as defense lawyers for Kratz last month, said details of that shooting remain unknown.
"We're still trying to figure it out," Eriksen said.
Kratz, of Northeast Philadelphia, and DiNardo, also 20, who lived in Bensalem, each face multiple counts of criminal homicide and conspiracy to commit homicide, according to court records. DiNardo is charged with all four of the slayings while Kratz is charged on three.
One new revelation to come from the hearings is that DiNardo and Kratz, after allegedly shooting Finocchiaro, Meo and Sturgis to death and burning their bodies on July 7, went to Steve's Prince of Steaks in Northeast Philadelphia for a late dinner. Kratz then slept over DiNardo's Bensalem house.
"The evidence will show that they went from the murder scene to go have cheesesteaks," Bucks County Assistant District Attorney Gregg Shore said after the hearings.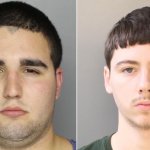 Another revelation included the fact that the two, described by investigators as cousins, had only known each other for a few weeks or months, according to Bucks County Detective Martin McDonough, who was the only person to testimony at Kratz's preliminary hearing.
McDonough also testified that the day of the alleged killings also was the first time Kratz said he had visited the DiNardo farm.
Kratz, in fact, told McDonough during his initial interviews with police that he threw up after Finocchiaro was shot to death.
While DiNardo confessed to three of the murders in the days after investigators began searching his family's estate in Solebury Township, according to his attorney Michael Parlow in July, he has claimed Kratz took part in the shooting of Finocchiaro. According to testimony Thursday by a Bucks a county detective, Kratz gave a statement that DiNardo pulled the trigger that killed Finocchiaro.
DiNardo spoke in short garbled answers to a judge's questions at his hearing.
"My lawyer explained it to me and that's what I'd like to do, your honor," he said when Common Pleas Judge Maggie Snow asked if DiNardo would like to waive his preliminary hearing in three separate cases.
A couple dozen family members of the victims in the cases were present at the Bucks County Courthouse in Doylestown along with two well-known Philadelphia attorneys representing the Finocchiaro and Meo families in potential future civil litigation.
Attorney Thomas Kline, who is representing the Finocchiaros, described DiNardo's appearance and responses on the television screen in the front of the courtroom as "odd and awkward."
"It was short," Kline said of the hearing. "Rather than describe it as short and sweet, I would say it was short and bitter."
He said the Finocchiaros are determined to see DiNardo serve the rest of his life in prison, adding that they remain shocked and saddened.
DiNardo allegedly confessed to the murders in return for the Bucks County District Attorney's promise not to seek the death penalty. DiNardo also provided investigators with the locations of all four young men's bodies on the sprawling 70-plus-acre farm.
Kratz's attorney Neils Eriksen, of Langhorne, declined to comment specifically on the proceedings.
Both men are being held without bail. DiNardo faces a charge of unlawful possession of a weapon, receiving stolen property for allegedly stealing one of his victim's cars and multiple counts of criminal homicide, conspiracy and abuse of a corpse.
[PHOTOS]Timeline: Murder of Four Young Men in Bucks County, Pennsylvania
DiNardo lawyer Michael Parlow previously said his client gave a "full confession" to police days after an investigation led to DiNardo's arrest after the grim discovery of four bodies at a farm in Solebury.
Investigators believe the victims were killed at the 70-acre property owned by the DiNardo family. It is a few miles outside of the borough of New Hope on the Delaware River.
Patrick was shot to death by DiNardo on July 5 as the two were alone on the farm, according to the affidavit. DiNardo told authorities that he and Patrick had arranged to meet on the farm for a marijuana drug deal, but once Patrick had arrived, DiNardo fatally shot him instead. He said he used a backhoe to dig the hole in which he buried Patrick's body.
The other three victims were killed July 7 in two separate incidents at the farm, both of which were under the guise of a drug deal, according to the criminal affidavit.
Kratz and DiNardo had planned to rob Finocchiaro after luring him to the farm, but instead Kratz shot him in the head, the affidavit said. Later in the day, Kratz and DiNardo met up with Sturgis and Meo and shot them to death in a similarly sudden manner, the charging document said.
Kratz initially told police that DiNardo killed all three, that he was not present inside a barn on the property when DiNardo shot Finocchiaro, according to testimony by McDonough at Kratz's preliminary hearing Thursday.
After killing Finocchiaro, Sturgis and Meo, DiNardo and Kratz put their bodies into a large container — what DiNardo called a "pig roaster" — and burned them using gasoline, according to the affidavit.
Three of the men's remains, however, were found by law enforcement in a common grave on the property. A fourth, Patrick, was found in a very remote section of the property.