Cosmo DiNardo admitted in a "full confession" Thursday afternoon to participation in the killings of four men who disappeared in early July, his attorney said.
The confession is part of a deal to avoid the death penalty, attorney Paul Lang told reporters outside the Bucks County Courthouse in Doylestown.
Moments later, the 20-year-old DiNardo was seen being escorted to a sheriff's van. He was shackled and wearing an orange prison jumpsuit.
"I'm sorry," he said before being driven away.
Later Thursday evening, a Northeast Philadelphia resident was questioned by police in connection to the case, though it is unclear if that person remains in custody.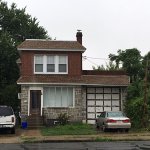 A source close to the investigation with knowledge of the plea negotiations told NBC10 that DiNardo admitted to killing all four men on the 90-acre Solebury Township farm. The source said multiple victims were shot and three of the four victims were found in a 12-1/2 foot deep "common grave." DiNardo admitted to burning at least two of the bodies and told officials where to find the remains of the fourth victim, according to the source.
The sudden announcement came a day after cadaver dogs helped lead investigators to a patch of Bucks County, Pennsylvania, farmland where the remains of at least one of the missing young men were buried deep underground.
Lang deferred all questions about the killings to District Attorney Matt Weintraub, who was not immediately available for comment.

"He admitted to the participation in the commission of four murders," Lang said. "In favor of that, the Commonwealth will not be seeking the death penalty. So Cosmo was spared life for in terms of giving all of his relevant information he could."
The Associated Press, citing a source with knowledge of the confession, reported that DiNardo killed each man separately after selling them marijuana.
The AP's source said DiNardo, who sold quarter-pound quantities of marijuana for thousands of dollars and handguns, felt cheated or threatened during the drug deals.
"Every death was related to a purported drug transaction, and at the end of each one there's a killing," the person said.
Investigators are now looking into the possibility that he had help in the crime, the source told NBC10.
DiNardo has been held since Wednesday on $5 million bail for allegedly trying to sell a car belonging to one of the men.
The discovery at the farmstead estate in the rolling, lush hills above New Hope marked a grim turn in the intense search for four men who disappeared late last week.
Weintraub said in a midnight press conference Thursday that the remains of 19-year-old Dean Finocchiaro, of Middletown Township, were positively identified.
Finocchiaro's death was immediately ruled a homicide, though Weintraub did not reveal an exact cause.

"This is a homicide, make no mistake about it," Weintraub said. "We just don't know how many homicides. We are yet to know the answer to that question."
Finocchiaro, along with 22-year-old Mark Sturgis of Pennsburg, Montgomery County; 21-year-old Tom Meo of Plumstead Township; and 19-year-old Jimi Taro Patrick of Newtown Township, vanished last week.
Meo's grandfather, Chuck Meo, told an NBC News producer that crews found the remains under a blue tarp after lifting out a propane tank.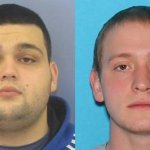 The sprawling property, which is bordered by three roads, is about three miles west of New Hope on the Delaware River, in a secluded part of the county where hidden mansions are marked by names like Idlewild and Mountaintop.
The property consists of three separate parcels that Cosmo DiNardo's parents, Antonio and Sandra DiNardo, of Bensalem, purchased between 2005 and 2008 for a combined nearly $6.5 million.
DiNardo was initially arrested Wednesday after investigators determined he tried to sell Meo's 1996 Nissan Maxima to a friend after his disappearance.
DiNardo was also arrested Monday on an unrelated weapons charge but left the Bucks County jail Tuesday night after his father, Antonio DiNardo, posted 10 percent of $1 million bail.
According to an affidavit obtained by NBC10, DiNardo was accused of possessing a 20-gauge shotgun and ammunition in February despite being barred from owning a firearm due to a history of mental illness that included an involuntary commitment. A district judge dismissed the charge in May, but the district attorney authorized for it to be refiled on Monday.
A family lawyer released a statement Wednesday, before the human remains were discovered, on behalf of DiNardo's parents.
"As parents, Mr. and Mrs. DiNardo sympathize with the parents and families of the missing young men and they are cooperating in every way possible with the investigation being conducted by law enforcement," the family attorney wrote.
According to Sturgis' father, Mark Potash, Sturgis and Meo are longtime friends who work in construction for him. Finocchiaro was a mutual friend of theirs, Potash said. Investigators began looking at DiNardo after they received tips indicating he was seen with the men shortly before they went missing.
Patrick went missing on Wednesday, July 5 and has not contacted family or friends since, police said. Finocchiaro was last seen alive Friday around 6:30 p.m. getting into a vehicle.
According to a newly obtained criminal complaint, Meo's mother reported him missing Saturday. Meo's girlfriend said she last texted him Friday at 6:53 p.m. and didn't hear from him after. Meo is an insulin-dependent diabetic.
Sturgis, who was last seen leaving his home on Walt Road in Pennsburg around 6 p.m. Friday, told his father he was going to meet with Meo in Doylestown.
On Sunday at 2:10 a.m., Sturgis' vehicle was found in the area of Peddler's Village in Buckingham Township about two miles away from a DiNardo estate.
Unlike neighboring estates, the DiNardo property has no name markers at the main entrance on Lower York Road. Only a broken mailbox, with fading numbers, marks the driveway. On the other side of the property, along Aquetong Road, a small and crumbling white house stands near the road.
A marked police cruiser held guard over that location Thursday, idling in front of a decrepit garage several yards from the house. The car of Thomas Meo was found inside the still open structure less than two hours after Sturgis' car.
Detectives say they found Meo's car keys hanging up on the wall of the garage. They also found Meo's diabetic supplies inside the vehicle.
On Sunday at 4:30 p.m., Bucks County detectives interviewed DiNardo's friend, whose identity police are withholding. The friend told police DiNardo had called him Saturday at 5 p.m. The two then met on Bristol and Galloway roads in Bensalem where DiNardo allegedly offered to sell Meo's Nissan Maxima to him for $500, the criminal complaint reads.
Police also interviewed DiNardo Sunday. DiNardo allegedly told detectives he was driving a silver Ford pickup truck Friday night.
A Solebury Township police mobile license plate reader data found DiNardo's Ford pickup truck was on 2541 Street Road in Solebury Township Friday at 7:49 p.m. Within a few seconds, the license plate reader also captured Meo's vehicle at the same location.
The location where both vehicles were captured is within two miles away of the DiNardo home and less than one mile away from where Sturgis' vehicle was found.
Based on the information, investigators say they had probable cause that DiNardo did "unlawfully take and retain control" of Meo's vehicle.
[PHOTOS]Timeline: Murder of Four Young Men in Bucks County, Pennsylvania
Susan Coleman, a woman who lives near the farm, told NBC10's Deanna Durante that she heard gunshots from around the property on Saturday — hours after Meo and others were last seen.
"We heard a series of blasts, they were loud," Coleman said.
Coleman said she was sitting outside with her husband when she heard the gunfire but at first didn't think much of it since people go hunting in the area. But, she decided to talk to investigators after hearing what sounded like more gunshots then yelling and commotion.
About 50 students, faculty and staff also gathered at a chapel at Loyola University in Maryland where Patrick was a rising sophomore to pray for him and the three other men. Director of Campus Ministry Sean Bray told the Baltimore Sun the group wanted to honor the request of Patrick's grandmother to "storm heaven with our prayers for Jimi's safe return."
Patrick, who graduated from Holy Ghost Preparatory School in Bensalem, was on the Dean's List at Loyola, his grandparent Sharon and Rich Patrick said in a prepared statement supplied to reporters.
Officials continue to work to identify the other human remains that were found Wednesday night. The investigation is ongoing.
"We're going to remain strong," Weintraub said after announcing Finocchiaro's death. "We're going to see this investigation to the end and we're going to bring each and every one of these lost boys home to their families, one way or another. And we will not rest until we do that."
---
NBC10 journalists Deanna Durante, Denise Nakano, Drew Smith, Dan Stamm and Brandon Hudson contributed to this report.