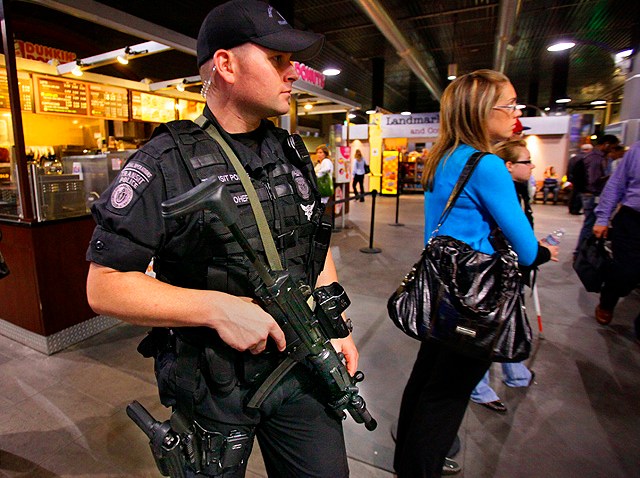 An Afghan immigrant with ties to Queens and Denver wanted to carry out a massive attack in New York City on the eighth anniversary of 9/11, but the feds foiled the plot, a U.S prosecutor said Friday.
Najibullah Zazi, a 24-year-old airport shuttle driver, was ordered to be transferred from Denver to New York, where he faces charges of conspiracy to use weapons of mass destruction, after a Denver federal prosecutor made the chilling accusation in court.
"The defendant was in the throes of making a bomb and attempting to perfect his formulation," U.S. Attorney Tim Neff said. He said the suspect "was intent on being in New York on 9/11" for a possible terror attack.
Zazi, who was arrested Saturday, was being held without bail pending his transfer to New York. The federal indictment says Zazi received explosives training from al-Qaeda in Pakistan and bought large quantities of hydrogen peroxide and nail-polish remover at beauty supply stores to make bombs, possibly to detonate on New York City commuter trains.

Zazi has denied any involvement with terror.
Multiple terror plots have been uncovered in cities across the nation, leaving Americans jittery over the prospect that al-Qaeda
or like-minded groups may be planning a new campaign on U.S. soil.
Authorities have not said whether the cases are related, but they come during the same week in which the federal Department of Homeland Security issued a bulletin to police around the country warning that terrorists could be seeking to blow up sports stadiums, entertainment complexes and hotels. Authorities said no particular plot prompted the bulletin, citing only al-Qaeda's longstanding desire to kill Americans in mass attacks.
In the meantime, seemingly unrelated cases around the nation have grabbed headlines:
In Dallas, the FBI arrested a Jordanian Thursday who they say tried to blow up a downtown office tower after vowing to wage violent jihad against the U.S. The bomb was a fake, supplied by undercover agents who had been tracking Hosam Maher Husein Smadi.
In Chicago, a 29-year-old man calling himself "Talib Islam" parked a van full of what he thought were bombs in front of a federal building and tried to detonate it. As with the Dallas case, the bombs were fake, supplied by undercover agents as part of a sting operation.
Two men charged in North Carolina last month with plotting terrorist attacks overseas also planned to attack the U.S. Marine Corps base in Quantico, Virginia.
In Philadephia, transit officials say two unidentified men seen taking photographs of a subway line fled after being questioned by workers. Police don't know if the separate incidents have anything to do with terrorism, but are looking for the men to interview them.
The New York plot seems to have been the farthest along, according to authorities. Federal agents had been monitoring Zazi for months, and say he began plotting as early as August 2008 to "use one or more weapons of mass destruction,'' when he "and others'' traveled from Newark, N.J., to receive explosives training in Pakistan.
"Ttoday's home-grown terrorists are not limiting their violent plans to locations overseas, but instead are willing to set their sights on American citizens and American targets, right here at home," North Carolina U.S. Attorney George E.B. Holding said.