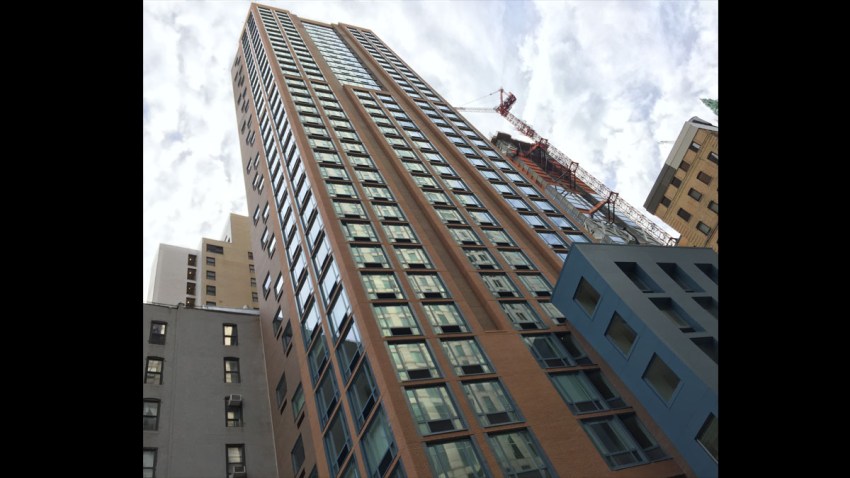 Talk about higher education.
The world's tallest college residence hall has opened at Pace University in lower Manhattan.
The 34-story dormitory on Beekman Street is 340 feet tall and contains 172,000 square feet of space. The new building, which officially opened with a ribbon-cutting ceremony Tuesday, is one block from Pace's main academic building and campus center, One Pace Plaza.
"Our new residence hall at 33 Beekman Street is a transformative addition to our campus, a potent symbol of the new Pace University in New York and a reminder to all that Pace is a vibrant presence in lower Manhattan," Pace University President Stephen J. Friedman said.
Around 770 students will be housed at 33 Beekman, which sports views of the new World Trade Center and East River. It's also right across the street from the 870-foot-tall luxury apartment building New York by Gehry — one of the tallest residential towers in the world.
"The lucky students who get to live here and study here will have their college years enriched immeasurably by all that New York has to offer," Manhattan Community Board 1 Chair Catherine McVay Hughes said.
Each residential room in the dormitory has city views and a private bathroom. There are also three student lounges, an in-house fitness facility and a multifunctional recreational space.
SL Green Realty Corporation developed the building, which was designed by Gene Kaufman Architects. SL Green also developed nearby 182 Broadway, another Pace residential hall.