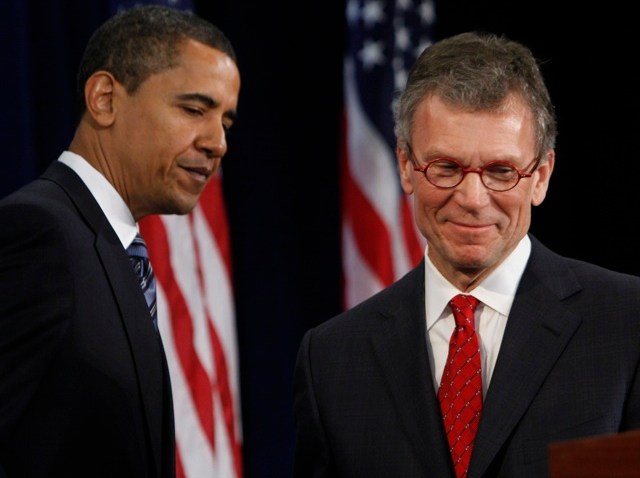 With chaos seeming to overwhelm all aspects of health care, Barack Obama's biggest problem may be that fate -- and a decision of his own that made sense at the time -- have conspired to rob him of three vital allies that could have radically transformed the politics of health care reform, at least in the Senate.
The word in Washington is that the saddest irony in the battle over health care reform is that that the man who has championed the issue in the Senate for forty years, Sen. Ted Kennedy, is now too ill to actually give aid to a president committed to getting a new policy done.
On the Democratic side, there's a belief that the intra-party war over the public option and costs could have been surmounted with Ted Kennedy holding court trying to get something done. Among Republicans, on the Sunday talk shows, both Orrin Hatch and John McCain suggested that, liberal as he may be, Kennedy had both the legislative heft and the personal gravitas within the chamber to be able to get members of the GOP to at least listen.
There's also another person who could have had the power to sway votes in the Democratic caucus: The man Obama wanted to run point on health care from the start -- former Majority Leader Tom Daschle.
Recall that Obama originally gave Daschle a huge portfolio: Even though he would have secretary of health and human services, Daschle also would have been named "health care czar" -- making him also a de facto member of the White House staff with the ability to go right in and speak directly with the president. Perhaps not since Henry Kissinger had the dual titles of secretary of state and national security adviser would one person have had such clout.
Most importantly, having been majority leader, Daschle knows the ins and outs of the Senate like nobody's business. Being the Senate, there are still quite a few members on both sides of the aisle that are there from his tenure running the place. He could get their temperature -- and figure out a deal that might even get a a handful of Republican votes. At the very least, Daschle could have made them felt that they had a place at the table. And, for the Democrats, Daschle might have had the ability to figure out how to get around -- or cajole -- Senate Finance Chairman Max Baucus.
Late payment of certain taxes and the questions raised by his seven years lobbying forced Daschle to withdraw his nomination in February. While he still gets the White House's ear from the outside, a lot of the communicating that he's doing may or may not be on behalf of various clients. It's not the same.
Daschle can't give the inside guidance and confidential conversation to the senators as he could have before. If Kennedy's absence makes for a spiritual void in the health care debate, Daschle's creates a tactical vacuum that, sorry, Gov. Kathleen Sibelius -- the new HHS secretary -- just can't fill.
There's also one other person missing person that could have provided Obama with a valuable resource: his current secretary of state, Hillary Rodham Clinton. At the time, Obama's selecting his chief rival for the Democratic presidential nomination seemed so out-of-the-box, yet brilliant that few could really criticize it. The offer made Obama look magnanimous in giving State to a political foe, pragmatic in recognizing that Clinton's star power could be a good diplomatic weapon to launch on the world, but cunning as well by removing a once and possibly future rival from the domestic political scene.
And, in fact, the Clintons have been a significant force in international relations. Problem is, its on the domestic front where Hillary could be a powerful force right now. Even though she was not a major committee or sub-committe chairman, Hillary Clinton had risen far in terms of influence within the Senate. Republicans who previously loathed her spoke openly about how hard a working senator she had become.
Had she stayed in the Senate, she might have been able to have been the one to help fight for the administration's priorities, with Ted Kennedy ill. And even though she lost to Obama, her own desire to erase the significant blot on her record -- the ill-fated '93-'94 health plan -- could have driven her to be a real partner with Obama in getting something out of the Senate.
Three people who could have made a difference on this major policy are lost to the president. Time will tell if their absences prove fatal to Democratic hopes for health care reform.
New York writer Robert A. George blogs at Ragged Thots. Follow him on Twitter.
Copyright FREEL - NBC Local Media